Do you know what CA$HOUT Ransomware is?
If you find your screen locked with the warning message from CA$HOUT Ransomware, you do not need to get a heart attack because, luckily, your personal files, including your photos, documents, videos, and archives are all safe. This ransomware tries to scare you by offering you a ransom fee to get your files recovered after an alleged encryption that has never really happened. This is obviously a scam that locks your screen so that you cannot even check whether your files are accessible or not. Of course, there can be a lot of unsuspecting users who get scared by seeing such a note on their screen and would "gladly" pay the fee to restore their files. This is why we are here to warn you that it would be a waste of money, let alone the fact that you would support criminals. We recommend that you remove CA$HOUT Ransomware immediately even if it does not mean direct danger as it is now. For the details about this malware infection, please continue reading our report.
Our researchers tested this ransomware in our internal lab and found that it may basically be distributed in two ways. The most frequently used method to spread ransomware is probably spamming campaigns. This infection may be attached to a spam mail and show up as an image or a document that claims to be a proof of an unpaid invoice or wrong banking details you have provided, but it can also be about the details of a supposed undelivered parcel, and so on. You would never think that this is a spam mail sent by cyber criminals to extort money from you. You should not expect today's spams to be that obvious as they used to be. In fact, you need to be extra careful even if you are protected by a spam filter. It is essential that you only open a mail or an attachment when you know the sender or you expect to get it. Whenever in doubt, you should contact the sender to double-check. Remember that normally you could not delete CA$HOUT Ransomware without losing your files as they would be rendered useless by encryption. Let this be a warning sign that you need to save regular backups to cloud storage or onto a removable hard disk.
Another possible way for this ransomware to show up on your system uninvited is through Remote Desktop Protocol (RDP). This means that you must have a remote desktop program active on your system that is badly configured or has a low quality password protection. These criminals may be able to gain access to your computer through this protocol and plant this vicious program behind your back. We advise you to always use strong passwords to protect your programs and your system. But it is a lot better to install a decent anti-malware program that could automatically filter out all known malware attacks. It is important that you delete CA$HOUT Ransomware right now if you want to be able to use your computer but before we share our solution, let us describe how this infection really works.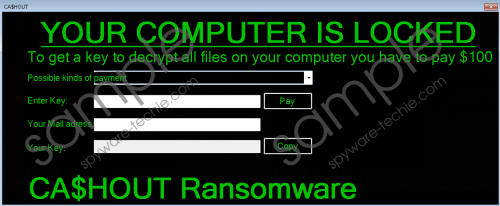 CA$HOUT Ransomware screenshot
Scroll down for full removal instructions
Obviously, this ransomware does not target your important files and does not encrypt them at all as its warning message tries to suggest. In fact, when this infection is launched, it blocks your screen with its program window. This sort of ransom note does not fit within this window, which is a bit strange. You can see green letters on black background. This note claims that your computer has been locked and in order to decrypt your files, you have to pay 100 US dollars. You are given two options to transfer this amount: PaySafeCard or Google PlayStore Card. Once done, you are supposed to get your key to decrypt your files that are not even encrypted. All in all, we do not advise you to send any easy money to these cyber criminals because you would simply encourage them to commit more online frauds. We highly recommend though that you remove CA$HOUT Ransomware as soon as possible.
This malware infection locks your screen and it also blocks your Task Manager. Because of this, you cannot run any programs or do anything on your system really. This is exactly why these crooks did it so that you may believe that your computer is locked and your files are all encrypted. This could, of course, force inexperienced users to transfer this ransom fee but we can tell you better. You can change this active ransom window by pressing Alt+Tab. Now, you can reboot your system because this infection does not start up automatically with Windows. Then, you can identify the malicious files you have saved onto your hard disk recently and delete them all. If you want to take matters into your own hands, you can use our instructions below as a reference. As you can see, protecting your PC against malware attacks is of utmost importance. If you do not feel skilled or disciplined enough to be able to do this manually, we recommend that you start using a reliable malware removal application like SpyHunter.
How to remove CA$HOUT Ransomware from Windows
Reboot your PC.
Once you logged in, launch your File Explorer by tapping Win+E simultaneously.
Identify and bin all suspicious files that you have saved lately.
Empty the Recycle Bin and reboot your PC.
In non-techie terms:
CA$HOUT Ransomware is not really a ransomware as its name suggests and as you would probably assume from its ransom message but it can still cause you a headache and possible cost you 100 dollars if you fall prey to this scam. This is indeed a screen locker that makes you believe that you need to pay money for your files to be decrypted; however, no encryption is actually done by this vicious program. You do not need to panic as we are here with the good news: You can easily remove CA$HOUT Ransomware without doing any harm to your system or your files. But, if you do not feel up to the task and do this manually, you can always employ an up-to-date anti-malware program.