Do you know what Buzzdeal is?
A program known as Buzzdeal is an adware application that affects the Google Chrome web browser. It is important to be aware of this adware program even if you do use a different browser hijacker. The unfortunate thing about this adware is the fact that quite a few users are simply tricked into obtaining it since its developers employ manipulative marketing techniques. In quite a few cases creators of this program urge you to use their application if you are a frequent online shopper because it should help you save time and money while you are shopping online. While it might sound like a program worthy of running your operating system, you must be aware that Buzzdeal, like any other adware application, will mostly cause tons of disruptions every single time you decide to surf the web. On top of that, this suspicious piece of software could also serve as a backdoor for other questionable programs. Such annoying and at times even potentially malicious activity of this adware are the main reasons we advise you to delete it without any hesitation. Use the removal guide that we provide below to get rid of this invasive application once and for all.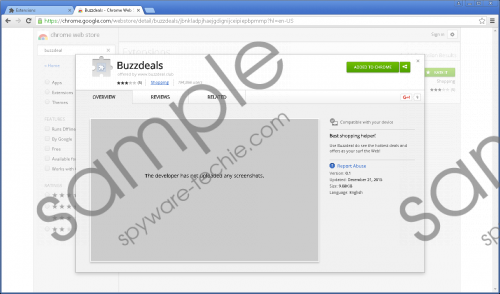 Buzzdeal screenshot
Scroll down for full removal instructions
As soon as Buzzdeal enters your operating system, you will experience its invasive activity. Your web browser will get filled with a rather large amount of unwanted third-party web content. Usually, such content manifests itself as various commercial ads, coupons, and pop-ups. It is important to note that nothing that this ad-supported program provides you with can be considered useful. In no way will they help you save time or money while you are shopping online; in fact, it will only ruin your overall online activity in numerous ways. At times, your web browser might get filled with so much of that dubious web content that you might be forced to stop all your online activities. All such activity is possible because the adware program in question implements its suspicious extension which triggers multiple connections to different adware servers, which are infamous for being the primary source of all those intrusive ads, pop-ups, and coupons. Unfortunately, breaking such connections is not a simple task, especially if you are not an advanced computer user. The only way that you can regain the standard functionality of your web browser is by executing a complete removal of Buzzdeal; if you fail to perform the removal procedure, the invasive third-party web content will continue to bother you.
Another dubious feature of Buzzdeal is that it could be used by other questionable programs as a backdoor into your operating system. Such activity imposes some major virtual threats. All of this is possible because the adware program in question can connect to the Internet without any authorization. Thus, during such connections, it could also initiate a silent download of some questionable and at times even potentially harmful application. Therefore, you must analyze your operating system for potentially malicious software if you happen to have this adware active on your PC. It goes without saying that any suspicious program must be removed if it is found running on your operating system. If you consider yourself a security-conscious user, it should be obvious that running Buzzdeal is a risk that you should not take as it could turn out to be a major virtual threat. Do not hesitate and delete this ad-supported program to maintain your operating system safe and secure at all times. Follow the instructions that we present below and you should be able to get rid of this adware program without encountering any major problems.
It is important to delete Buzzdeal as it holds no valuable features whatsoever and could even prove to be malicious. You should pay your utmost attention to the removal procedure to delete this adware in its entirety. It is critical to note that even a single mistake during such procedure could result in an incomplete removal of Buzzdeal, which could the result in a silent restoration of this adware. To avoid this, you highly advise you to check your PC for potential leftovers linked to this invasive program as soon as you have performed the manual removal.
How to remove Buzzdeal from your web browser
Google Chrome
Start your web browser.
Click the Chrome Menu button.
Select Settings and click Extensions.
Click the Recycle Bin icon next to the Buzzdeal.
Select Remove to confirm your choice.
In non-techie terms:
It is important to delete Buzzdeal as it holds no valuable features and could even prove to be malicious as well. It goes without saying that some users might not be comfortable performing the manual removal themselves. This is why our research team has crafted an alternative removal guide that will help you delete Buzzdeal in an automatic manner.