Do you know what Buzz-It ads are?
If you are annoyed by Buzz-It ads, which are displayed in different places on the screen, it means that it is time to remove Buzz-It. Buzz-It is a free browser plug-in which displays offers and suggestions based on your search terms. The application is sponsored by third parties, which means that in addition to the content that is related to your interests, you are provided with web banners, commercial offers, and other pop-ups. Due to the fact that Buzz-It disturbs computer users with third parties' content, it is categorized as adware and can be removed from the PC by a powerful spyware removal tool.
The application is available at buzz-it.co and is compatible with Internet Explorer, Google Chrome, and Mozilla Firefox. The browser plug-in may also be distributed by the partners of Buzz-It. In case the application is distributed by unauthorized software distributors, Buzz-It does not accept responsibility for it. If you have installed the application by mistake and want to get rid of Buzz-It ads as soon as you can, keep on reading to find out how to do it effortlessly.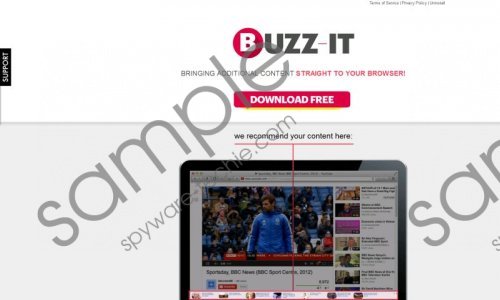 Buzz-It Ads screenshot
Scroll down for full removal instructions
If you are planning on installing the application, bear in mind that Buzz-It ads do not belong to the company. Various pop-ups and web banners belong to third parties, which are not governed by Buzz-It. You interact with those commercial offers and advertisements at your own risk, which means that computer threats and other adverse consequences are your own responsibilities. Some of the third parties sponsoring Buzz-It may be unreliable. You may be provided with deceptive advertisements aimed at obtaining your personal information or making you install shareware, all of which may have serious consequences. Hence, you should be very careful when dealing with Buzz-It ads in order not to have the system impaired or your privacy violated.
Buzz-It collects information about you to deliver relevant information to you. The browser plug-in is not aimed at revealing your identity, but bear in mind that information about you may be shared with other parties, including the affiliates of Buzz-It. Buzz-It ads uses various tracking techniques and records your clicks, the addresses of the websites that you access, default search provider, your IP address, and other non-personally identifiable information. Third parties may also be interested in your browsing behavior so that you can enhance their service. They may monitor you and display targeted advertisements, so, if you want to avoid targeted advertisements, remove Buzz-It from the computer.
If your computer is not protected by a reputable spyware removal tool, we recommend that you implement SpyHunter, because this application can terminate Buzz-It ads and safeguard the system against malware and spyware attacks. In case you want to get rid of Buzz-It ads by yourself, use our removal guide given below.
How to remove Buzz-It ads
Windows Vista and Windows 7
Open the Start menu.
Click Control Panel.
Click Uninstall a program.
Uninstall Buzz-It.
Windows 8
Press Win+R and enter control panel.
Click OK.
Select Uninstall a program.
Remove the adware program.
Windows XP
Click Start.
Select Control Panel.
Click Add or Remove Programs.
Uninstall the adware program.
In non-techie terms:
Do not forget that you should scan the system once you finish the removal of Buzz-It ads to make sure that no files associated with the application are present within the system.