Do you know what Buuble.net is?
Buuble.net is an application that must be terminated at the very same time that it is found up and running on your personal computer. Malware experts at Spyware-Techie.com urge you to do so since it is yet another browser hijacker which is quite active nowadays; thus Internet users should be aware of it and potentially detrimental indications that it might have if it operates on their computer. One of the reasons it must be removed from your PC without any hesitation is the fact that like any other applications of this category the one in question will ruin your web browsing experience in numerous ways. You must also know that the main reason its removal is critical is the fact that in some cases it could prove to be the reason your computer might end up filled with other questionable and potentially harmful applications. Below we present detailed instructions that should allow you to get rid of Buuble.net in just a few simple steps once and for all.
You will immediately notice changes within your web browser's default settings since Buuble.net acts right after it gains full access to your operating system. It is important to note that the hijacker in question affects major web browsers such as Internet Explorer, Google Chrome, and Mozilla Firefox. This means that virtually every internet user could get their system infected with it. Therefore, being aware of its presence is crucial. There is only one change made by it, and it is of your default home page. A single change might seem irrelevant at first; unfortunately, it will be more than enough to cause annoyance and frustration. Basically, for as long as this intrusive piece of software is fully active on your computer, you will be forced to start every single online session on a newly appointed home page regardless of your wishes. Reverting such a change might be a bit more complicated than you could anticipate at first as a simple reset of your web browser might not to do the trick. If you wish to restore the default settings of your web browser to surf the web the way you are used to you will need to follow the removal guide that we present below to delete Buuble.net.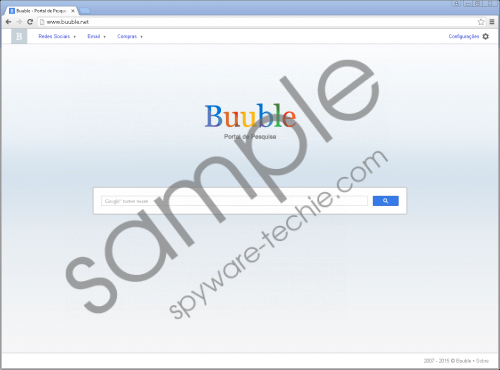 Buuble.net screenshot
Scroll down for full removal instructions
While annoyance and frustration caused by Buuble.net is its most prominent feature, you must also be aware of some other potentially dangerous things that a related to this hijacker. Since it usually is distributed via bundled installers, we highly advise you to analyze your PC for other suspicious programs if you already have this hijacker fully operating on your computer. On top of that, you should also be aware of the fact that using a search box that is present within the newly set home page could prove to have devastating outcomes, to say the least. This is so because as it turns out, some the results presented to you could lead you to suspicious third-party sites; it might happen since some of them could be embedded with redirect links. Entering any suspicious websites might have unwanted consequences. Even though results implemented with redirect links might not occur often, it remains a dangerous instance. For example, by clicking on such a search result, you could even end up on websites that are running an arbitrary code execution exploit, meaning that just entering it is more than enough to get your personal computer infected with some unknown malware. It goes without saying that the complete removal of Buuble.net is a must if you are keen on keeping your personal computer safe and secure at all times.
The complete removal of Buuble.net is essential not only because it will allow you to surf the web the way you are used to but it will help you avoid other dubious programs. Running this browser hijacker on your computer is a risk that no Internet user should take. Carefully follow the instructions crafted by our malware experts because a single mistake could mean that the hijacker was not removed entirely, which could mean that the intrusive and potentially harmful changes made by it remained intact.
How to delete Buuble.net from your PC
Right-click your browser's shortcut.
Select Properties.
From the Target line section delete everything that comes after .exe".
Click Apply and OK.
In non-techie terms:
If you believe that manual removal is a bit too complicated for you, do not worry. Our team of malware experts have crafted an alternative removal guide that we present below. Follow these instructions and you will be able to delete Buuble.net in an automatic manner.