Do you know what Buscador-solidario.org is?
We want to inform you that Buscador-solidario.org is not your typical search engine and that you ought to remove it. Our researchers have found that this supposedly legitimate search engine is a mere browser hijacker that's only purpose is to generate advertising revenue for its developers by displaying commercial advertisements and promotions inside its search results. The problem is that the promoted content comes from unknown third parties. Therefore, this content is likely to be misleading or even malicious, because legitimate enterprises would not resort to using browser hijackers to promote their content. So if your browser has been affected by Buscador-solidario.org, then we invite you to read this article.
Our researchers have noticed a surge in the number of browser hijacker releases from various developers. This particular browser hijacker is known to be developed by Ad Business Crown Solutions S.L., a company that specializes in web monetization and precision targeting solutions for advertisers. However, it uses dishonest tactics in order to make money. First of all, this developer uses malicious software bundles to infect as many computers as possible. Bundles that contain Buscador-solidario.org may also feature malicious software, such as adware that you ought to delete as well. For this reason, our researchers recommend that you scan your computer with an anti-malware program. Buscador-solidario.org's developers made this hijacker to be compatible with the most popular web browsers. So people who use Internet Explorer, Firefox, and Chrome should be aware that this hijacker can affect their browsers. Edge, however, is currently unsupported by it which is very good news.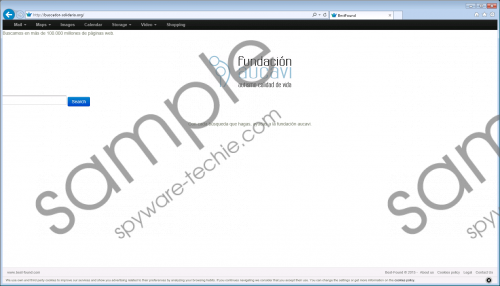 Buscador-solidario.org screenshot
Scroll down for full removal instructions
If your computer becomes infected with the Buscador-solidario.org browser hijacker, then it will automatically change the browser's homepage and perhaps take over the function of the main search provider. Typically, a browser hijacker modifies the browser settings and is set to prevent the user from making any changes to its modifications. However, this is not the case with Buscador-solidario.org. Our researchers have found that this particular browser hijacker can be removed by simply changing the search engine via browser settings. However, if this does not work, then you should try to reset the browser settings to default.
You should remove Buscador-solidario.org not only because it forcefully changes the default homepage and search provider, but also because it has been set to include advertisements and promotional links to third-party websites. Unfortunately, this promoted content is not very reliable. It is common knowledge that all major search engines include promotional links to make money so that their creators could develop and improve their products. Note that Buscador-solidario.org itself uses Google's and/or Yahoo's search results as its own. Furthermore, as stated on this hijacker's website "Although the program is offered to users through the Web site of a third party (the "Lender") different from Bestfound, this third party does not own the program and has not participated in any way in its development or creation." So regardless of the fact that this hijacker uses well-known search engines to do all of the work; it will still modify the search results.
All in all, Buscador-solidario.org is just another browser hijacker that was created for the single purpose of making money for its owners. You should delete it because; it is distributed with the help of malicious software bundles that inject it into your browser without your knowledge. And, because its search results feature promotional links of questionable legitimacy. So please remove Buscador-solidario.org using the instructions we have included.
How to remove Buscador-solidario.org
Microsoft Internet Explorer
Press Alt+T.
Click Internet Options and open the Advanced tab.
Select Reset and select the checkbox.
Click Reset and again then click Close.
Done.
Mozilla Firefox
Press Alt+H.
Click Troubleshooting Information.
Click Refresh Firefox.
Click Refresht Firefox again and click Finish.
Done
Google Chrome
Press Alt+F.
Click Settings and click Show advanced settings.
Click Reset settings and click Reset.
Done.
In non-techie terms:
Buscador-solidario.org has been classified as a browser hijacker, because it enters computers with the help of malicious software installers that inject Buscador-solidario.org without your consent. Furthermore, this hijacker has been programmed to include promotional links in its search results that our researchers say are likely to be unreliable as their authenticity and legitimacy cannot be verified.