Do you know what BuiltMoneyMaker is?
Undoubtedly, many users were disappointed after downloading BuiltMoneyMaker as they hoped to make easy money while sitting at home. However, after the application is installed it will display various ads and gather information about your interactions with them, but the collected data could be personal too. If you want to protect your privacy and get rid of the ads, you will have to remove the program from your system. You should also be aware that the application travels bundled with other software that you may not like. Therefore, follow the removal instructions available below the article and clean your computer from suspicious programs.
Once the application is installed, it will create a shortcut on your Desktop and a folder in the Start menu. All of the files are placed in the Program Files directory, although it also creates Windows Registry entries in the Internet Explorer key. To be precise, it makes entries in DOM Storage, which could be compared to HTML cookies, but it is a feature designed for Internet Explorer. This means that the program is going to collect information about you. Mainly, it should gather non-personal data that illustrates your interests, e.g. visited sites, viewed ads, etc., but there is always a possibility that you will accidentally reveal your personal information. For instance, you could click on some ads and in the process, you might be redirected to third-party websites where they have different Privacy Policy and could gather any data that you type in. You might be asked to provide your email, name, telephone number, etc. for some free services. Any collected information could be used to scam you.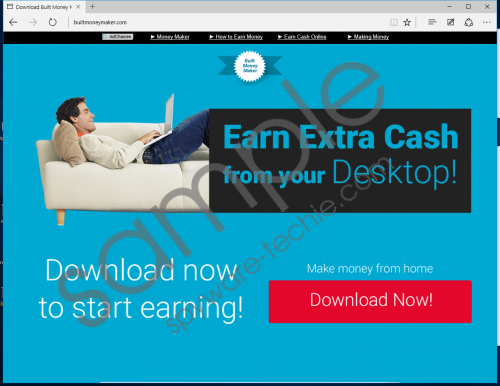 BuiltMoneyMaker screenshot
Scroll down for full removal instructions
The other downside of the program is that it redirects you to various websites, such as premiumpromorewards.com, savings-galleria.com, and others. The application will display these sponsored links on Internet Explorer and on its main window every time you launch it. The ads or links are not related to BuiltMoneyMaker, as they come from third parties, so they cannot be trusted and you should avoid entering them. It might not happen to you, but it is possible to catch a virus or other malware, provided the site you enter is malicious, and your computer is unprotected. That is why it is important to have a reliable security tool installed and updated because it should protect you from any threat unless they are very recently created.
BuiltMoneyMaker is classified as adware application because it displays ads and seeks to generate revenue from your clicks. It might be downloaded from its official site, which is builtmoneymaker.com. Moreover, our researchers have found that the installer file from this site could come bundled, so while installing the application, you might get other suggestions on the setup wizard, such as Yoursearching.com, MyPcBackUp, etc. Also, you could have installed this program unknowingly with other software too. If you rushed through installation without reading the given information, you could have allowed BuiltMoneyMaker to settle in your system. One way or another, it would be advisable to check your computer for more unwanted applications and delete them as soon as possible.
Overall, the program seems suspicious and potentially harmful to your computer. Also, it could violate your privacy if the chance is given. The only way to secure your computer and personal information is to get rid of the adware and other suspicious programs, which might have been installed together. Lucky for you, this adware has a working uninstaller file, which means it can be removed simply via Control Panel. If you do not know how to uninstall the software using Control Panel, you can use our recommended deletion steps provided below the text.
Delete BuiltMoneyMaker via Control Panel
Windows 8 and Windows 10
Press Windows Key+R to launch the RUN.
Type Control Panel and press OK.
Click on Uninstall a program.
Locate BuiltMoneyMaker and click Uninstall.
Windows Vista and Windows 7
Click on Start menu and open Control Panel.
Select on Uninstall a program.
Choose the program and pick Uninstall.
Windows XP
Open Start and select Control Panel.
Choose Add or Remove Programs.
Find the application and select Uninstall.
In non-techie terms:
Legitimate adware programs display ads but allow you to use their features for free. In this case, BuiltMoneyMaker shows advertising, but it has zero useful functions. Clearly, it is not worth to keep a program like this when it is possible to infect your computer with more severe threats or reveal your sensitive data to cyber criminals. Thus, the smartest choice would be to erase the adware and scan your system with a legitimate antimalware tool.