Do you know what Bud Ransomware is?
If Bud Ransomware manages to slither onto your system, you can be sure that it will encrypt all your personal files (e.g., photos, documents, and databases) leaving a huge devastation behind. Of course, your attackers offer you a way out of this nightmare by having to pay a relatively high ransom fee in return for the decryption key. However, our researchers would like to warn you that this ransomware may not be fully working and it is possible that the decryption part will not be satisfying. On the other hand, it is also possible that these criminals have no intention of giving you this key at all. You might be infected with yet another dangerous threat or they may simply disappear as quickly as they entered your computer. Since this ransomware program sets up a point of execution in your Windows registry, it will execute every time you restart your computer. This is why it is so important that you remove Bud Ransomware right after the horrible attack takes place. Please read our full report to learn more about this dangerous infection and how you may be able to avoid the next attack.
There are a number of ways for cyber crooks to infect your computer with such a ransomware program. In fact, most of the time it is not even these crooks who smuggle such a dangerous threat onto your system but you yourself. For example, it is possible that you receive a spam e-mail that looks totally fine and legitimate. At first sight it even looks very important as it claims to regard a matter that would seem urgent to most people really. Such matters may include unpaid fines (speeding tickets or parking tickets), a parcel that could not be delivered to you, a wrongly made online booking, and so on. These are typical issues that you would be way too curious not to open the mail. In fact, it is not the opening of this spam that is the worst thing although there are some ransomware infections that can be triggered to drop the moment you open the spam. In this case, it is more likely that you need to save and open the attached file for this malicious attack to be activated. This also means that by the time you can delete Bud Ransomware from your system, all your personal files will have been encrypted because there is no way for you to stop that vicious process even if you were to notice that something is off and you cannot open certain files.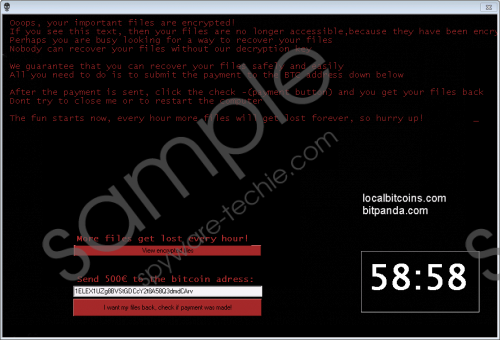 Bud Ransomware screenshot
Scroll down for full removal instructions
The second most likely possibility is that your computer has a remote desktop application installed and these crooks can apply brute-force attack to break your password to get into your system or exploit unsecure configuration settings. Once they have access to your system, they can copy the malicious executable and activate it without you noticing anything. This type of attack you can only avoid if you make sure to protect your software and system with strong passwords, or you also install a proper up-to-date security tool. Similarly to spam mails, when you remove Bud Ransomware, it also means that you will lose your encrypted files unless you have a backup.
Once the main executable is run, it makes two copies of itself. One in "%LOCALAPPDATA%\Corel\" as "CorelCGS.exe," which is the one that encrypts your files, and one in "%APPDATA%\Corel\" named "RegisterCGS.exe," which is the program that starts up every time you restart your computer. This ransomware also blocks your explorer.exe (the main system process) and your Task Manager as well if you restart your computer after the attack. This would mean that you will have to use Safe Mode in order to be able to delete Bud Ransomware from your system. This ransomware in no different from your usual ransomware infection as it also targets your most precious files in the hope of being able to force you to pay the ransom fee to get your files back. This malware infection also uses the AES algorithm like most of its peers.
After the damage is done, your screen changes to the ransom note window that starts to type the note letter by letter in a style we have seen in the case of Jigsaw Ransomware. These crooks demand 500 EUR from you in Bitcoins, which can mean that they mostly concentrate on European countries like Germany. You have to send this money to the given Bitcoin address as fast as you can because some of your files are deleted every hour. Although it may be tempting to quickly pay these criminals to recover your files but it is also very risky. We believe that it is more likely for you to lose your money on top of your files than receiving the decryption key and restore your files. We recommend that you act now and remove Bud Ransomware from your PC.
We have prepared the necessary instructions for you and shared it below this report. Please follow the steps carefully if you want to manually put an end to this dangerous infection. If you do not feel up to this task, you can always use a reliable malware removal application (e.g., SpyHunter) to automatically eliminate all known malicious threats and protect your PC against them in the future. But even if you do so, it is still essential that you update all your programs and drivers to avoid cyber attacks exploiting outdated software bugs.
Remove Bud Ransomware from Windows
Tap Ctrl+Shift+Esc simultaneously to launch your Task Manager.
Click on the malicious process and click End task.
Close Task Manager.
Tap Win+E.
Delete the following folders:
%APPDATA%\Corel
%LOCALAPPDATA%\Corel
Delete any suspicious file you have saved lately. (Scan your default download folders: Desktop, %Temp%, and Downloads.)
Tap Win+R and enter regedit. Click OK.
Delete "HKCU\Software\Microsoft\Windows\CurrentVersion\Run\RegisterCGS.exe" registry value name.
Close the registry editor.
Empty your Recycle Bin and reboot your computer.
In non-techie terms:
Bud Ransomware is a new danger to your precious files since this malicious threat can sneak onto your system behind your back and encrypt all your important files only to demand a ransom fee in exchange for the unique decryption key. The bad news is that there is no way right now to recover your encrypted files in any other way; however, it is just as risky to pay these criminals the fee because there is no guarantee they will deliver as promised. Our researchers say that only a recent backup of your files could be used to restore your personal files. Of course, it is always a possibility that malware experts can come up with a hack and release a free tool in the near future. But we cannot confirm such a file recovery tool as of yet. We recommend that you remove Bud Ransomware as soon as possible because otherwise you will not be able to use your computer at all. If you want real peace of mind in your virtual world, we suggest that you install a trustworthy anti-malware program.