Do you know what Bucksbee Search is?
Bucksbee Search is a potentially unwanted browser extension which may enter your computer using third party downloads. Developers of various browser extensions choose this practice in order to distribute their products; however, this is not entirely secure. Even though some Windows users may find the product promoted at bucksbee.com beneficial, most should find it intrusive, useless and unnecessary. Please continue reading to find out more about the application and why you should remove Bucksbee Search.
Since it is most likely that the application was installed onto your computer without your direct consent, you probably have not read the EULA displayed upon the installation. This document is used by the developers (FreeCause Inc.) of the application to reveal information regarding your virtual privacy upon the existence of the add-on. Here is an important excerpt:
The Software may be offered to you bundled with one or more third party software applications ("Third Party Applications"). Any such Third Party Application is owned or licensed by a third party and this EULA does not apply to your use of such Third Party Application, regardless of whether the Software and such Third Party Application came bundled together. Your access or use of the Third Party Application may be subject to applicable third party rights, terms and conditions, and may require that you accept additional terms of use for such access or use.
As the statement discloses, Bucksbee Search, also known as the Rewards Bar or Bucksbee Toolbar, is powered through third-party activity and it may access your PC via the installation of third-party software. Needless to say, it is dangerous to have your personal data collected by an unfamiliar add-on, especially if it can leak recorded information to other unfamiliar sources. As you may already guess, this is a security vulnerability that schemers could employ for their own benefit. Cyber crooks could disguise behind seemingly legitimate and beneficial online pop-up ads which potentially could hide malware installation setups and virtual scams. This is why you should delete Bucksbee Search right away.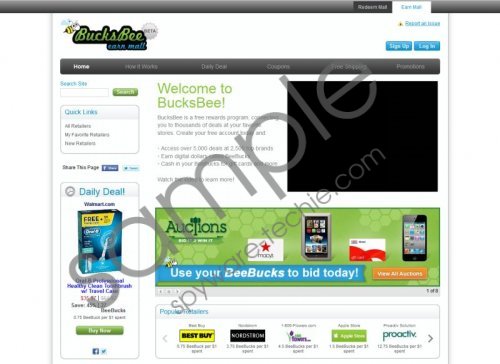 Bucksbee Search screenshot
Scroll down for full removal instructions
The removal of Bucksbee Search is not a complicated task if you perform it in time before malignant programs are installed onto the PC. If you suspect any of them running already – implement a reputable malware scanner to inspect the operating system. If there are no threats to delete – perform the manual removal instructions presented below.
How to delete Bucksbee Search?
Remove from PC:
Windows XP:
Start -> Control Panel -> Add or Remove Programs.
Click the unwanted program (fcreward) and select Remove.
Windows Vista/Windows 7:
Start -> Control Panel -> Uninstall a program.
Right-click the unwanted program (fcreward) and to remove it select Uninstall.
Windows 8:
Right-click on the Metro UI start screen -> All apps -> Control Panel -> Uninstall a program.
To delete the unwanted application (fcreward) – right-click it and select Uninstall.
Remove from browsers
Once the undesirable program is removed from the PC it is no longer active within Internet Explorer and Google Chrome browsers. Follow the instructions to delete it from Mozilla Firefox.
Mozilla Firefox:
Launch the browser and simultaneously tap Ctrl+Shift+A. This will open the Add-ons Manager in a new tab.
Select Extensions from the menu on your left.
Find the unwanted add-on (fcreward) and click Remove.
In non-techie terms:
Bucksbee Search is a potentially unwanted application which may endanger your virtual security. To delete the application use the manual removal instructions presented above. If malignant programs are running on the computer, make sure to delete them with automatic removal software.
Aliases: Bucksbee.com.