Do you know what BSA Virus is?
BSA Virus is a computer infection that targets your money. Unlike fake security application, this threat is classified as a ransomware program. It means that BSA Virus holds your computer hostage until you pay the ransom, and even longer - it has no intention of letting you go.
At first it might seem that BSA Virus displays a legitimate notice, because it has a Business Software Alliance logo. This organization advocates for the global software industry and is concerned with the utilization of legitimate software. Nevertheless, BSA does not have the power to lock down your computer. The truth is that BSA Virus is a part of the Ukash Virus scam, and it blames the user for the crimes he hasn't committed just like the notorious FBI Moneypak, Federal Computer Crime Unit Virus, European Law Enforcement Agency Virus, and others.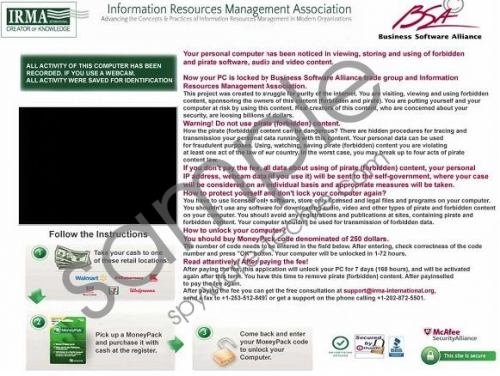 BSA Virus screenshot
Scroll down for full removal instructions
Since we have established that the notification displayed by BSA Virus is fake, you should not pay attention to anything it says:
Your personal computer has been noticed in viewing, storing and using of forbidden and pirate software, audio and video content.
Now your PC is locked by Business Software Alliance trade group and Information Resources Managed Association.
Read the message above and think again - it says that BSA is a trade group. However, no trade group has a jurisdiction to trespass private computers and block them. Obviously, BSA Virus is one fake program that is only interested in ripping easy financial gain. You can see that in the following excerpt from the notification:
How to unlock your computer?
You should buy MoneyPack code denominated of 250 dollars.
The number of code needs to be entered in the field below. After entering, check correctness of the code number and press "OK" button. Your computer will be unlocked in 1-72 hours.
Your computer will never be unlocked. Also, a few months ago FBI Moneypak demanded a 100 USD release fee. Now BSA Virus asks for 250 dollars displaying the growing appetite of the cyber criminals. Do not pay a single cent for this scam and remove BSA Virus using the instructions below:
Windows Vista & 7:
Restart your computer and press F8 while system loads.
Use arrow keys to navigate and select Safe Mode with Networking. Press Enter.
Access the Internet and follow the link to download SpyHunter http://www.spyware-techie.com/download-sph
Install the program to remove BSA Virus.
Windows XP:
Reset or turn on your computer.
Press F8 before Windows logo appears.
Choose Safe Mode with Networking from the Advanced Boot Option Menu. Press Enter.
Click "OK" when a confirmation box appears.
Download SpyHunter.
Open Start menu and launch Run.
Type "msconfig" into the blank box. Click OK.
Click the Startup tab on System Configuration menu.
Click Disable All button and press OK to save changes.
Exit the menu and restart your computer in Normal Mode.
Install SpyHunter and erase the infection.
In non-techie terms:
BSA Virus is a dangerous computer threat that does not allow you to run your computer. It displays a fake security notification and asks for your money. Remove BSA Virus using the instructions posted above and protect your system from similar infections.
Aliases: BSA ransom Virus.