Do you know what Browzeable.com is?
If you are wondering why your web browser's default settings were changed without your consent, you must know that it could be the doing of a browser hijacker known as Browzeable.com. In such a case, you must execute its complete removal right away as it does not provide any valuable features whatsoever. The hijacker in question only makes online activities much more annoying and bothersome. In fact, due to devious changes, you will not be able to surf the web the way you like. What is even more concerning is the fact that in some cases this intrusive application could be the reason other suspicious programs might enter your personal computer without a lot of trouble. To find out how that could happen, make sure to read the rest of this report. Additionally, we provide a detailed removal guide that will help you delete Browzeable.com in just a few simple steps.
In its overall functionality, Browzeable.com does not differ all that much form its contemporary counterparts. During the analysis, malware experts working at our internal labs have discovered that this hijacker is closely related to other applications of this category such as Search.yourinterestscenter.com, Search.yourpackagesnow.com, and Search.searchlttrn.com. Therefore, it is quite natural that all of them function alike. Upon intrusion, the hijacker in question, like its counterparts, makes unauthorized alterations to files and registry entries associated with your browsers default functionality. It is important to note that this invasive application affects popular browsers such as Internet Explorer, Mozilla Firefox, and Google Chrome. Such broad compatibility means that a vast amount of Internet users could be affected by this dubious program. After the files and registry entries are modified, you will notice that your default homepage has been changed to a suspicious third-party website. Due to such modification, surfing the web will become an annoying experience since every single time you will start an online session you will be presented with a dubious site instead of your default homepage whether you like that or not. The search box provided on the new homepage is questionable. That is so because it can present you with a large number of sponsored results instead of useful ones. To regain your browser's default functionality once and for all, you need to perform a thorough removal of Search.searchlttrn.com as soon as it is found up and running on your PC. To do that be sure to use the detailed removal instructions that we present below.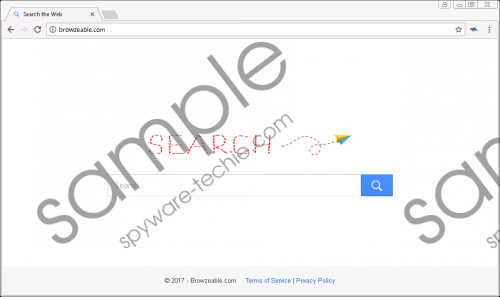 Browzeable.com screenshot
Scroll down for full removal instructions
As mentioned, there is something much more alarming about Browzeable.com than the annoyance it causes. During the analysis of this browser hijacker, malware experts have discovered that it could be distributed via bundled installers. That is a dangerous instance because such setup files are usually full of suspicious software. Thus, it is a good idea to check your PC for other devious software if you already have the hijacker in question active on your operating system. You should also know that using the search field on a newly appointed homepage could prove to be quite dangerous because it might present you with results that could be implemented with redirect links, which might lead you to all sorts of questionable and even malicious sites. You could end up on sites created by cyber crooks and in some instances just entering them might be more than enough to get your PC infected with some unknown malicious application. You could also encounter fake online stores, which are created to make illegal profits from unsuspecting Internet users. Make sure not to take any chances with Browzeable.com and conduct its complete removal right away.
Be sure to delete Browzeable.com as it could prove to be a major virtual threat. Under no circumstances delay the removal procedure since keeping this hijacker active on your PC could be dangerous. Make sure to follow the instructions that we present below with care to delete Browzeable.com completely. To be sure that no traces linked to this invasive program are active on your PC after manual removal, make sure to conduct an extensive analysis of your entire operating system for anything associated with Browzeable.com. It is important to do so because leftovers of this hijacker could act deviously. For example, just a few traces of Browzeable.com might be enough to restore it. In other situations, those same leftovers might be just enough for this dubious program to function.
How to remove Browzeable.com from your computer
Google Chrome
Open your File Explorer.
Go to C:\Users\(your username)\AppData\Local\Google\Chrome\User Data\Default.
Select and delete files entitled Preferences, Secure Preferences, and Web Data.
Right-click your Recycle Bin and select Empty Recycle Bin.
Mozilla Firefox
Open your File Explorer.
Navigate to C:\Users\(your username)\AppData\Roaming\Mozilla\Firefox\Profiles\(unique Mozilla profile ID).
Right-click a file called prefs.js and select Delete.
Right-click your Recycle Bin and select Empty Recycle Bin.
Internet Explorer
Click the Windows button.
Type regedit into a search field and tap Enter on your keyboard.
Go to to HKEY_CURRENT_USER\Software\Microsoft\Internet Explorer\Main.
Right-click a registry value entitled Start Page and select Modify.
Replace the unwanted URL with a new one and then click OK.
In non-techie terms:
It is quite natural that manual removal might be too complicated for some users since it involves manual registry editing. If you happen to be one of those users, do not worry. We provide an alternative removal guide crafted by our malware experts. Follow the instructions below and you will be able to delete this invasive hijacker automatically.