Do you know what BrowsingSecure is?
BrowsingSecure is an adware application that should be spread with bundled software since it does not have an official website. It appears that the program is a clone of TomorrowGames, PrintOnKey, DoReMe, and a few other adware applications that we have reviewed in our previous articles. Knowing how these programs act it would be better if you removed the application from your computer. The main downside of the software is that it shows annoying pop-ups and commercial advertisements. To make matters worse, this advertising content comes from unknown sources, so you cannot know where you could be redirected once you click these ads. If you continue reading the article, we will present more important details about the adware.
To begin with, the adware should spread through unreliable file-sharing sites that tend to bundle their installers. If you visited a site like that, you might have downloaded an installer that was bundled with BrowsingSecure. Some users install suspicious applications without realizing it as they accept all the terms on the setup wizard without reading them. If that is how you got the adware, it might be the right time to download a security tool and clean up your system because you may have downloaded more doubtful software.
When you install the adware, it should create a shortcut on your desktop that is titled as GoodGames Empire. If you launch it, you should be redirected to empire.goodgamestudios.com/?w=234147. This link only loads a site where you can play games online if you have an account there, so it is not harmful in any way. What should worry you the most is the fact that the adware is compatible with the Google Chrome, Mozilla Firefox, and Internet Explorer browsers. This means that the application could gather user information, but since it does not have an official site, we cannot check its Privacy Policy statements. It would not surprise us if the application gathered your anonymous data since many adware programs do so. On the other hand, some of them also collect user information that is considered private, e.g. your name, telephone number, email address, passwords of social accounts, and so on. That is why you should not take chances with software, which does not provide the Privacy Policy or End User License Agreement documents.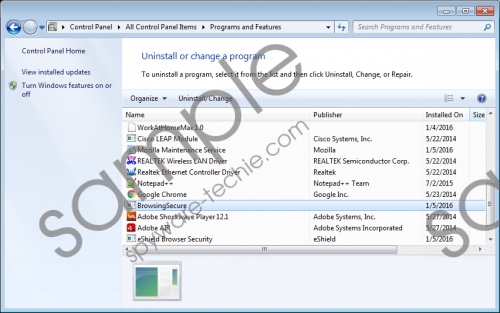 BrowsingSecure screenshot
Scroll down for full removal instructions
Another problem with the adware is that it might flood your computer with irritating pop-ups and other kinds of ads. No doubt that some of them might look appealing to you as they could be based on your search keywords, reviewed ads, and similar data. Clicking them might be not the best idea since all of this advertising content could come from third-party websites. We cannot be a hundred percent sure, but some of the sites could contain malware, e.g. viruses, Trojans, ransomware or other infections. Also, the pop-ups might promote unreliable software similar to BrowsingSecure or even fake e-shops.
It is your choice if you want to keep such application on your computer, but given that it can display ads and do nothing else besides that, it should be enough to see that BrowsingSecure is a useless program. However, you can get rid of the annoying ads if you eliminate the adware. In order to do that, you should take a look at the instructions available below this text. If that seems too complicated, do not hesitate to download a legitimate security tool as it will help you erase the application automatically. Firstly, complete the installation process and then you can use the scanning tool to locate the application. Lastly, the antimalware will show you a list with all the detections, and you can choose how to deal with them.
Delete BrowsingSecure via Control Panel
Windows 8 & Windows 10
Launch the RUN by pressing Windows Key+R.
Type Control Panel and select OK.
Click on Uninstall a program.
Mark the application and press Uninstall.
Windows Vista & Windows 7
Open the Start menu.
Choose Control Panel.
Select Uninstall a program.
Find the adware, mark it and click Uninstall.
Windows XP
Click on Start.
Launch Control Panel.
Select Add or Remove Programs.
Locate BrowsingSecure, select it and press Uninstall.
In non-techie terms:
BrowsingSecure will show you regular pop-ups and other ads that could have links to potentially harmful web pages. The application has no website that would provide Privacy Policy or End User License Agreement documents, so you cannot know what kind of information it will gather and how it might use or share it. If you do not want to have it on your PC any longer, you should eliminate the adware with the removal guide provided above or a reputable antimalware tool that you trust.