Do you know what Browsing Secure is?
Browsing Secure is a typical ad-supported application that disguises itself as a beneficial tool. If you find this adware on your computer, it is most likely you do not remember installing it. This intrusive application can silently sneak onto your computer, which already questions its intentions. Instead of making your browsing more secure, it may start showing you third-party advertisements, including shopping deals, on your screen. "Annoying" and "potentially dangerous" are the two terms that come straight to mind when you think of this adware program. Its presence is not good news at all, as it may be a sign that other malware infections are on-board, too. Removing Browsing Secure is the only way to go if you want to stop the avalanche of security issues that might follow.
We do not believe that the official website, browsingsecure.net, gets a lot of hits since it is rather difficult to search for an application with such a name and actually find the promotional site. We are also quite confident when we say that you did not download your version from this website. How can we be so sure? Since the download function does not work, nobody can really get the application from that source, right? But does that make Browsing Secure a reliable program? We do not think so.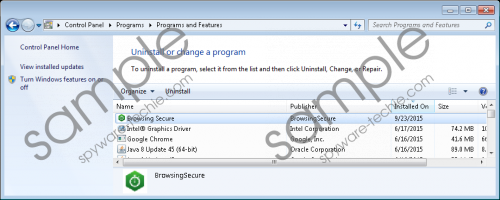 Browsing Secure screenshot
Scroll down for full removal instructions
It will only be more suspicious when you learn that this adware is distributed in free software bundles, which may be packed with other malicious software. That is how you can allow a bunch of adware apps, browser hijackers, and potentially unwanted programs onto your machine at the same time. Most users download such bundles from shady shareware sites, which should serve as a lesson to learn to stay away from those pages. Always use reputable sites to download free software from. However, if you have ended up with a bundle of "baddies" on your computer, deleting Browsing Secure will only be the first battle in a longer malware war. Of course, if you had a professional antimalware program, it could be as simple as the click of a button.
Our researchers have found that this adware is very similar to WinGuard, Security Utility, and WebEnhance, which we have already covered here. Browsing Secure does not install browser extensions, it operates through a service called browsingsecure.exe*32 in order to display the advertisements. The bad news is that these third-party ads cannot be guaranteed to be reliable. What if cyber criminals pose as a third party and send misleadingly attractive ads to your screen? What if you click on those and get taken to websites where you could be scammed or infected with other malware threats? If you remove Browsing Secure, these scenarios become history. Of course, you will still have to be careful with where you click and what sites you visit.
If you are ready to "put the gloves on," we are here to share what you can do to eliminate Browsing Secure so that you can really start browsing securely. Since it has a working uninstaller – at least that works all right – you can simply uninstall it via Control Panel. However, if you have never done that before, please use our guide below. Unfortunately, you cannot be sure there is no other infection on your computer unless you run a malware scanner. If that finds any threat, you had better think about installing a trustworthy malware removal tool to protect your PC.
Browsing Secure Removal from Windows
Windows XP
Click the Start button and go to Control Panel.
Select Add or Remove Programs.
Click on the application and press Remove.
Windows Vista/Windows 7
Open the Start menu and choose Control Panel.
Click Uninstall a program.
Select the application and press Uninstall.
Windows 8/Windows 8.1/Windows 10
Press Win+I and access Control Panel.
Open Uninstall a program.
Select the application and press Uninstall.
In non-techie terms:
Browsing Secure is a worthless application that has been categorized as adware. It simply does not function as promised, but, instead, it may pose a threat to your virtual security. This adware may display potentially unreliable ads that may introduce you to unsafe websites. It is also likely that this application entered your computer together with other malware programs. Therefore, we suggest that you remove Browsing Secure ASAP along with every other threat you may find.