Do you know what BrowserWatchdog is?
BrowserWatchdog is a fake browser protector that claims to keep you safe from misleading and deceptive websites that feature malware downloads. However, you should remove BrowserWatchdog, because it is itself malicious. This program has only one objective, which is to display commercial advertisements that come from unknown sources. So, in fact, BrowserWatchdog may promote the very websites and malware that it claims to shield you from. This program is on par with programs such as Browser-Security and Browser Project. However, the three programs are made by different developers. But the idea behind the aforementioned programs is the same – to trick people into installing the software in order to advance a secretive agenda.
However, this does not mean that BrowserWatchdog is a unique program. It has numerous clones that have been released not so long ago. Majestic Coupons and Ninja Savings are just two most recent examples that are almost identical to this particular program. BrowserWatchdog's anonymous developers have set up a promotional website for it called Browserwatchdog.com. This website features a download button, but after clicking it you will get a message that says, "Sorry, our extension is down for maintenance and currently unavailable." So if you have this program on your computer, then you definitely did not get it from its main website. Our security analysts suggest that this program is most likely distributed using shady freeware hosting websites that oftentimes bundle several programs into one installer to make money. Needless to say, you should always go for advanced/custom installation settings and remove any unwanted additional software.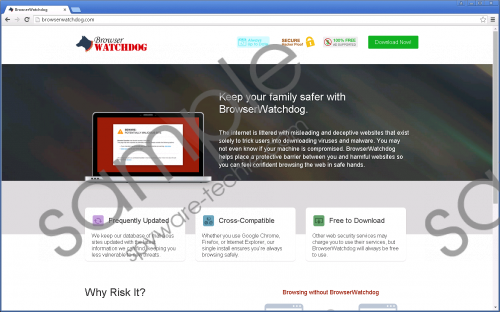 BrowserWatchdog screenshot
Scroll down for full removal instructions
Once this application is installed, it will automatically connect to its server, which will transmit instructions on what advertisements to show. For a supposedly legitimate program, BrowserWatchdog features an extensive selection of forms of advertising. The information provided on its website suggests that it can display sponsored links, coupons, banners, pop-ups, in-texts, video ads, pop-ups, and so on. It also states that the advertisements might even appear in your search engine's search results.
Not only does BrowserWatchdog not perform the functions it advertises it will perform, but the ads it does display come from several sources. These sources, however, should not be trusted, because adware developers are happy do to business with anyone who is willing to pay for their services. It is quite possible that this program will promote various software downloads, such as registry cleaners and PC optimizers, that do not actually do anything, but want people to purchase them. It might also advertise online gaming websites that often contain adware applications and other mildly malicious software. So BrowserWatchdog is not a very serious threat, but, at the same time, it should not be ignored for too long.
We must also mention the fact that this program is capable of collecting non-personal information about you. According to its Privacy Policy, the developers use their software to determine which country and city you live in, browser and PC information, IP address, type of operating system, and so on. It may use this information to display targeted advertisements. However, as far as we know, it displays random ads irrespective of what your browsing habits are.
It is easy to see that BrowserWatchdog is not the program that its developers claim it is. Its only purpose is to generate advertising revenue at the expense of your browsing quality and security. Having this program on your PC is a bad idea because, if you click an ad, you might get more unreliable software. Therefore, we suggest that you consult our removal guide and Uninstall BrowserWatchdog via the Control Panel.
How to Uninstall BrowserWatchdog
Windows 10
Right-click on the Start menu, which is located on the lower-left of the screen
Click Control Panel and go to Uninstall a program.
Identify BrowserWatchdog, double-click on it, and click Uninstall.
Windows 8/8.1
Simultaneously press the Widows key+R.
Type Control Panel in the dialog box and Click OK.
Select Uninstall a program.
Identify BrowserWatchdog and click the Uninstall button.
Windows 7/Vista
Click the Start menu button.
Open Control Panel and select Uninstall a program.
Identify BrowserWatchdog and right-click on it.
Click Uninstall.
Windows XP
Open the Start menu.
Click Control Panel.
Select Add or Remove Programs.
Identify BrowserWatchdog and click Remove.
In non-techie terms:
BrowserWatchdog is an ad-supported application that poses as a tool that protects you from malicious websites. In reality, it does not warn about or prevent you from accessing malicious websites, because its only purpose is to display commercial advertisements that come in various shapes and sizes. The ads are exclusively provided by third-parties of somewhat questionable legitimacy. We fear that BrowserWatchdog might promote unreliable software and websites. Therefore, you ought to remove it.