Do you know what BrowserSync is?
BrowserSync is an adware application that promises to collect relevant information and display it when you browse the Internet. In other words, it says that with BrowserSync installed on your browser, you will be able to access all the necessary information without searching. The problem is that this program is an adware application, and it may pose certain security threats. You should remove BrowserSync from your computer because this application may allow malevolent third parties to enter your system and consequently steal your money.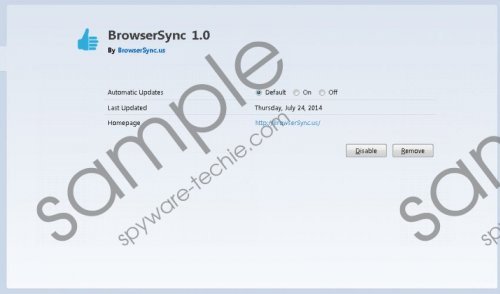 BrowserSync screenshot
Scroll down for full removal instructions
We are not trying to say here that BrowserSync is a dangerous computer infection. On the contrary – you can easily download the application at browsersync.us where the add-on is promoted as a useful tool that can enhance your web browsing experience. However, our research team says that official download pages are not the main adware distributors. It is very unlikely that a user will stumble upon browsersync.us and download the application willingly. Based on our research, the most common method of distribution for BrowserSync is bundled downloads. This application often spreads via fake Java downloaders. So if you have recently clicked an ad that prompted you to download a new Java upgrade, it is very likely that you downloaded and installed an entire list of potentially unwanted programs (with BrowserSync being one of them).
As you can already tell, if BrowserSync runs on your computer, there is also a high chance that you have more adware applications installed on the system. If you want to determine the exact state of your system's security, simply scan the PC with SpyHunter, and the scanner will soon display a list of all the potentially dangerous applications currently running on your computer. Then you should acquire a powerful antispyware application and delete all the potential threats automatically.
As far as BrowserSync is concerned, it is possible uninstall the program manually via Control panel. Do not think that simply allowing it to remain on your system would solve the problem. This application will spam you with commercial advertisements. Some of them may contain links that lead to corrupted and perhaps even malware-related websites, so in the long run you could even get infected with malware.
It is important that you avoid the worst case scenarios, so the sooner you remove BrowserSync from the system, the better. Please follow the manual adware removal instructions, and for the full unwanted software removal you can refer to the secondary set of instructions below this article. Do not forget that you can always leave us a comment if you have any further questions on BrowserSync or your computer's security in general.
Manual BrowserSync Removal
Windows 8
Slide mouse cursor to the bottom right corner of the desktop.
Click Settings on Charm bar and go to Control Panel.
Open Uninstall a program and remove BrowserSync.
Windows Vista & Windows 7
Open Start menu and click Control Panel.
Select Uninstall a program and remove BrowserSync.
Windows XP
Click Start menu button and go to Control panel.
Select Add or remove programs and uninstall BrowserSync.
In non-techie terms:
BrowserSync may not be a direct computer security threat, but this program is capable of exposing you to potentially unreliable and perhaps even dangerous websites. Eventually it may even lead to malware infection, so it is necessary that you terminate BrowserSync adware at once.