Do you know what BrowserShield is?
Users usually install BrowserShield on their systems because they believe that it can help them prevent malicious software from slithering onto their computers. We cannot blame them because the information provided on its official website (browser-shield.com) says that this application "recognizes online threats so you can browse safer and help prevent irreparable damage to your computer." In fact, it is not worth believing any word placed on the official website of BrowserShield because our researchers have noticed that this program shows ads only. Of course, this program can be updated in the future, but there is definitely no point in keeping it at the moment. It seems that it is not so difficult to remove BrowserShield because it is possible to do that via Control Panel. Therefore, you should not postpone the removal process.
Even though BrowserShield claims that it can help you to protect your PC from malicious software, the truth is that this program can cause harm to your system itself. Well, it is not really harmful itself, but we still do not think that you should keep it because it will start displaying advertisements on your screen. It does not matter that these advertisements look decent because they can still expose you to potential threats. What is more, our specialists are sure that this program can collect information about you. It says that it does not collect personal information, but it also adds that "it is possible that, in very limited and rare circumstances, personal information could be collected incidentally and without our knowledge." On top of that, there is no doubt that it records non-personally identifiable information, e.g. your IP address, the content you access, the websites you visit, and more. It is up to you whether to trust such a program, but we think that it would be the best to erase it completely.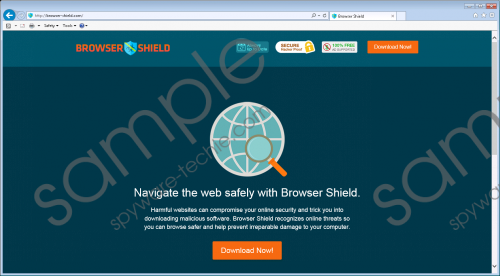 BrowserShield screenshot
Scroll down for full removal instructions
Make sure that you do not allow Price-Horse, Price-Hipo, Price-Slayer, and ProShopper to enter your system too because they act exactly like BrowserShield. In other words, they are clones of this adware program. In most cases, users download them from third-party websites together with other applications. We highly recommend that you stop downloading software from untrustworthy third-party websites. You should also not forget to acquire a security tool and install it on your computer. Make sure that it is 100% trustworthy. If you do that, malware will not bother you ever again.
You will be able to remove BrowserShield very easily if you follow our instructions step by step. Unfortunately, our instructions will not help you to erase all the existing infections on your computer, which means that you will have to erase them one by one yourself or simply scan your computer with an antimalware scanner.
How to delete BrowserShield
Windows 8/Windows 10
Tap the Windows key + I simultaneously and then select Control Panel.
Open Uninstall a program and locate the software that you wish to remove.
Right-click on it and then erase it.
Windows 7 and Vista
Tap the Windows key to open the menu.
Select Control Panel.
Click Uninstall a program.
Right-click on BrowserShield.
Click the Uninstall button.
Windows XP
Click the Start button and then select Control Panel from the menu.
Click Add or Remove Programs.
Select the undesirable application.
Remove it from the system.
In non-techie terms:
It is very important to erase every single infection from the system because they can easily multiply. In addition, they might perform various activities behind your back and even ruin your browsing session. The easiest way to check the condition of the system and erase all the existing threats is to scan the system with an antimalware tool, such as SpyHunter.