Do you know what Browser-search.net is?
Your browsing experience usually starts with the right search provider, and Browser-search.net is not it. This search provider might seem beneficial, but we have found that it is absolutely useless. On top of that, it can install itself without permission. These are the two reasons that should help you realize that this hijacker deserves immediate removal. Unfortunately, if you dig deeper, you will realize that you need to delete Browser-search.net for security purposes as well. Our research team agrees that there is no time to waste when it comes to this infection. So, read this report and decide whether or not you should delete this hijacker from your own PC.
Users who install Browser-search.net willingly might expect it to work in a beneficial manner. Of course, that is not the case. It appears that this unreliable search provider was set up to promote certain products and services because the same search results are repeated over and over again. Although Browser-search.net provides Search, Images, Videos, News, and Shopping search tools, they are worthless. This should serve as a sign that this search tool deserves removal, even if it was installed with your permission. We have found that Searchatomic.com, Buscarenlaweb.com, and several other browser hijackers work in the same way. Although it is unlikely that these threats will be bundled together, their removal is discussed in different removal reports you can find on this website.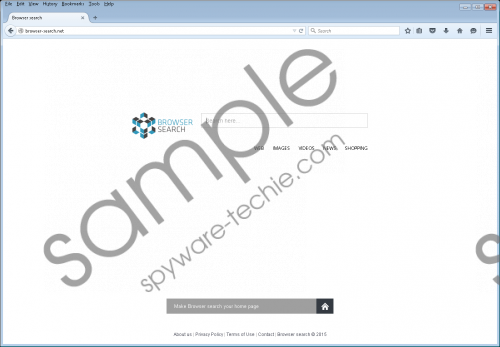 Browser-search.net screenshot
Scroll down for full removal instructions
The Privacy Policy associated with Browser-search.net provides a link to the Privacy Policy of Trovi Search, which suggests that both of them are related. All in all, the information provided reveals that the information collected may include personally identifiable information. This data is recorded by tracking cookies, some of which might be controlled by third parties. After all, it is said that personally identifiable and non-personally identifiable information can be shared with undisclosed parties. This is something that should convince you to remove Browser-search.net from your browsers ASAP.
Browser-search.net is a search provider you can easily remove with a few steps which are shown below. Unfortunately, we cannot guarantee that your browsers and operating system will be clean if you perform them successfully. If other threats are active, you must eliminate them timely and efficiently. Manual removal, depending on the malware active, can be extremely complicated, which is the first reason you should consider installing automated malware removal software. Another reason to install this software is further Windows protection which can ensure that you do not need to delete malware in the future.
Delete Browser-search.net from browsers
Delete from Mozilla Firefox
Launch the browser and tap Alt+T on your keyboard.
Select Options to access a new menu and go to General.
Under Home Page edit/remove the unwanted URL.
Restart Firefox.
Delete from Internet Explorer
Launch the browser and tap Alt+T on your keyboard.
Select Internet options.
Click the General tab.
Edit/remove the Home Page URL.
Restart Internet Explorer.
Delete from Google Chrome
Launch the browser and tap Alt+F on your keyboard.
Select Settings and move to the On Startup menu.
Choose Open a specific page or set of pages.
Click Set pages and locate Browser-search.net.
Edit/remove the URL and click OK.
Restart Chrome.
In non-techie terms:
It should be clear by now that Browser-search.net will not help you browse the web and will put your virtual security at risk. Because of this, we advise removing this browser hijacker right away. Our research shows that you can remove Browser-search.net by modifying the homepage on the infected browsers. To make sure that leftovers and other malicious threats do not exist, scan your operating system with a malware scanner or – and this is what we recommend – employ an automated malware remover to eliminate existing threats within a few minutes.