Do you know what Browser Nail is?
Browser Nail is a free browser add-on maintained by SuperWeb LLC. The program is compatible with Internet Explorer and Mozilla Firefox, but, if you have some very old version of Google Chrome, you might manage to use the program on that browser. Browser Nail is aimed at enhancing your experience on the Internet, mainly on shopping websites, by providing you with various special offers and other shopping-related information. In addition to these pop-ups, the Browser Nail program shows pop-ups that have nothing in common with the underlying website. For example, when browsing a news website, you may find pop-up windows offering you system scanners or online contests. Such offers may turn out to be a scam, which is why we recommend that you remove Browser Nail from your computer as soon as you can.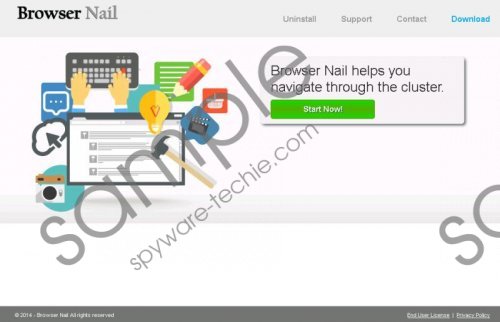 Browser Nail screenshot
Scroll down for full removal instructions
The browser add-on may seem to be convincing because it is presented at browsernail.com. However, the official website is not proof that you can trust the program. There are many examples of how unsuspecting computer users are deceived by convincing, well-developed websites, and you should not blindly trust every program that seems to be described on a separate website. Browser Nail is an adware program, and you should not delay removing it from your PC.
Browser Nail is capable of monitoring your online behavior in order for the developers of the program to understand your preferences and browsing patterns. For example, this browser add-on records clicks, impressions, search terms, browsing history, browser time, language settings, IP address, time spent on various websites, and other information that could be useful to the developers of the program or third parties. The websites to which you are taken by Browser Nail pop-ups may also use some tracking techniques to monitor you, and you should bear in mind that your interaction with those websites is your own responsibility.
As regards the removal of Browser Nail, our team recommends that you use a powerful anti-malware program. Browser Nail is not a computer infection, but your operating system may easily get infected by various more dangerous programs, such as Trojan horses and fake anti-virus programs. Our team recommends using SpyHunter, because this program easily removes Browser Nail from the computer and fights off multiple threats.
It is possible to uninstall Browser Nail, but, after removing the unwanted application, you should scan the system to make sure that no components of the unwanted program are present on the PC. The instructions below will help you remove Browser Nail manually, and, if you have any questions, feel free to contact us.
How to remove Browser Nail
Windows Vista and Windows 7
Click Start.
Select the Control Panel option.
Click the Uninstall a program option.
Remove Browser Nail.
Windows XP
Click Start.
Select Control Panel.
Click Add or Remove Programs.
Uninstall the unwanted application.
Windows 8
Move the mouse pointer to the lower-left corner of the screen.
Right-click on the pop-up window.
Select Control Panel.
Click Uninstall a program.
Remove Browser Nail.
In non-techie terms:
If you do not want to use the instructions given above, implement our recommended security program, which will eliminate Browser Nail for you in no time. The installation of the program is not difficult, but, if you want step-by-step guidance through the installation process, use the following instructions.