Do you know what BrowsePro is?
BrowsePro is a potentially unwanted application classified as an adware program. Adware programs are created to generate financial revenue for their developers. They do not steal users' money directly, nor are they malicious computer infections. However, adware programs are often associated with particular computer security problems, so it is not a good idea to ignore them. Remove BrowsePro from your computer if this application happens to be installed on your system, and then run a full system scan in search for any other potentially unwanted program.
The reason we urge you to perform a full system scan is that BrowsePro is one of those applications that get distributed bundled with a number of freeware programs. After all, BrowsePro comes from SuperWeb group of adware applications, and these apps do not have a direct download link. There is a homepage at browsepro.net, but it seems like it is not well-developed, and it has been put up only for the show – to convince users that BrowsePro is a reliable application. However, computer users seldom download such applications from their direct sources. Our research lab team also says that when it comes to BrowsePro distribution, it usually spreads bundled with third-party downloaders and installers.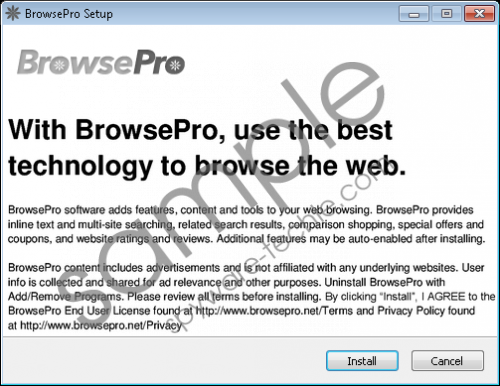 BrowsePro screenshot
Scroll down for full removal instructions
It means that you have to be very attentive whenever you download something new from a third-party website. Do not forget that freeware apps usually arrive bundled with additional programs that you neither need nor want, and BrowsePro might be one of them. If you do not read all the installation steps carefully, you will most probably miss the step that informs you about the oncoming installation.
When BrowsePro gets installed on the PC, it starts gathering information on what websites you visit and what you search for online. This application also installs extensions on Internet Explorer and Mozilla Firefox web browsers. When BrowsePro has enough data collected, through these extensions it bombards you with annoying commercial advertisements. The ads will appear on BestBuy, eBay, Amazon and a number of other popular online stores. Your job is to avoid clicking BrowsePro ads because the application certainly does not check whether all the outgoing links embedded on the ads are safe and secure.
Before you know it, you might accidentally land on a website that is related to online marketing schemes or even worse – you could be exposed to malware distribution network. As your computer's security is your utmost priority, you should uninstall BrowsePro immediately. For any further questions, you are encouraged to leave us a comment. Do not hesitate to ask!
How to remove BrowsePro
Windows 8
Move mouse cursor to the bottom right of the screen.
When Charm bar appears, click Settings and go to Control panel.
Select Uninstall a program and remove BrowsePro.
Windows Vista & Windows 7
Open Start menu and select Control Panel.
Go to Uninstall a program and remove BrowsePro.
Windows XP
Click Start menu button and navigate to Control Panel.
Select Add or remove programs and uninstall BrowsePro.
In non-techie terms:
BrowsePro is an adware program. It slows down your browser and it may lead you to dangerous websites. You have to remove BrowsePro today. You should also scan your computer because you might have more unwanted applications on board. For an alternative unwanted software removal method, please check out the instructions below this description.