Do you know what BrowsePlus is?
BrowsePlus is a browser add-on that works like an adware program. It collects information on your web browsing habits and then processes them to generate your online profile. The application needs to know about your likes and preferences so that it could provide you with relevant commercial content. Supposedly, BrowsePlus should help you save money when you shop online, but we believe that it is not the case. There are some aspects of this program that are quite alarming, and from the safety point of view, it would definitely be better if you removed this application from your system.
It is clear that you have to get rid of BrowsePlus if you did not install the application willingly. Although the add-on does not try to trick you into adding it to your Google Chrome browser, it still happens because it can be distributed in software bundles. A software bundle is a piece of software pack that contains several programs, and they all get installed on a target computer by a third-party installer. Users download these third-party installers when they roam file-sharing websites. If you decide to download something from such a site, please be sure to read every single step on the installer carefully because it may offer you to decline certain programs. However, if you just breeze through the setup, things like BrowsePlus will easily settle on your computer.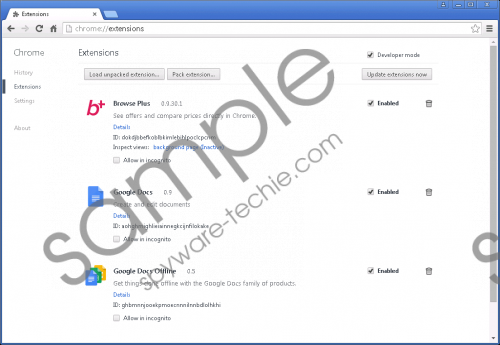 BrowsePlus screenshot
Scroll down for full removal instructions
Needless to say, bundled downloads are not the only method of distribution employed by this add-on. In fact, BrowsePlus can be downloaded from the Chrome store, as the link is included in its official website. You can access the program's main page via getishopping.com, and it actually looks quite user-friendly. It promises to help you find a particular product for a lower price. Since the add-on tracks your online activity, the notification it displays on your browser may really be related to your latest searches. However, it does not mean that the pop-up ads will really lead you to reliable shopping websites.
BrowsePlus is more of a promotional tool for third parties, and it does not really care whether you will find what you are looking for. The application needs to make money for its creators via the pay-per-click system, so as long as you increase the traffic on third-party website by clicking the BrowsePlus ads, it is all fine. Unfortunately, it might not be as fine for you.
As mentioned, the application does not check whether it displays legitimate content, so some of the pop-ups may contain corrupted links that lead you to dangerous websites. In the worst case scenario, it would not be surprising if you got infected with malware, or your personally identifiable information was stolen by malevolent parties. That is why, you need to take your internet security seriously, and even if BrowsePlus looks like a random application, you should not tolerate it any longer.
When you delete BrowsePlus it from your browser, you should also scan your PC with the SpyHunter free scanner. If the application arrived at your system with a number of other uninvited guests, you have to remove them all at once because you can never know what other threat you might encounter next.
How to Delete BrowsePlus
Launch the Google Chrome browser.
Press Alt+F and go to More tools.
Click Extensions and remove BrowsePlus.
In non-techie terms:
BrowsePlus is an annoying adware application that displays commercial pop-ups. These pop-ups may slow down your browser and even redirect you to dangerous websites. Although adware programs are not direct computer security threats, you will do yourself a favor if you remove BrowsePlus from your system right now. For a full computer protection, please invest in a legitimate antispyware application and keep it updated all the time.