Do you know what BrickStrengthener is?
BrickStrengthener is an adware application that can cause you some trouble. It is not a malicious infection, but users often are taken by surprise to see it on their computer. This happens due to the fact that BrickStrengthener does not have any direct distribution source and it always comes with other potentially unwanted applications. If you care about your system's security, you will remove BrickStrengthener immediately. We have to inform you that you should also scan your PC with the SpyHunter free scanner to search for other unnecessary applications, as adware programs seldom travel alone.
When it comes to the distribution method, it is clear that BrickStrengthener spreads bundled with freeware. Our research lab team says that this adware application usually travels with such unwanted applciations as YouTubeAdBlocker, SW.Booster, EZDownloader, and even the websearch.search-plaza.info browser hijacker. This means that having BrickStrengthener on your computer is a first sign of potentially serious computer security issues. If you have a lot of adware applications on-board, it can eventually lead to really dangerous problems. In the worst case scenario, you could get infected with malware as well! This shows that you have to delete BrickStrengthener at once.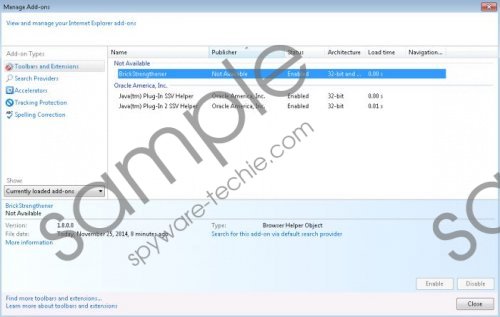 BrickStrengthener screenshot
Scroll down for full removal instructions
Technically, BrickStrengthener is very similar to Boomdeal, SaveNShop, LuckyCoupon, and many other applications from the so-called semi-random name adware family. They are all based on JustPlugIt engine and distributed mostly through InstallRex installers, although in some cases, depending on your location and the adware-related websites you visit, BrickStrengthener may also come via the Amonetize and Vittalia installers. The bottom line is that you initiate the adware download yourself, so if you want to avoid potential computer security issues, you should stay away from file sharing and torrent websites.
When BrickStrengthener enters your computer, it adds extensions to the Mozilla Firefox, Google Chrome, and Internet Explorer web browsers. It is important to note that the newest Google Chrome versions block this extension, so it shows how important it is to keep all of your programs and applications updated to their newest versions.
BrickStrengthener is supposed to provide you with some useful functionality, but instead it simply tracks your web browsing history and displays commercial advertisements that help its creators make easy money. Although the program does not try to rip you off, some of the BrickStrengthener ads might redirect you to malicious websites. Hence, the best way to avoid dealing with dangerous threats is to delete BrickStrengthener right now.
Follow the instructions below to uninstall BrickStrengthener. If you encounter any problems while removing this application, do not hesitate to contact us. You should also consider investing in a licensed antispyware tool that would guard your system in the future.
How to remove BrickStrengthener
Windows 8
Move the mouse cursor to the bottom right corner of the screen.
Click Settings on the Charm bar and select Control Panel.
Open Uninstall a program and remove BrickStrengthener.
Windows Vista & Windows 7
Click the Start menu button and go to Control Panel.
Open Uninstall a program and remove BrickStrengthener.
Windows XP
Click the Start button and navigate to Control Panel.
Select Add or remove programs and uninstall BrickStrengthener.
Remove BrickStrengthener from your browser
Mozilla Firefox
Press Alt+T and click Add-ons.
Disable and remove BrickStrengthener from Extensions.
Restart browser.
Google Chrome
Press Alt+F and go to Settings.
Click Extensions on the left pane.
Remove BrickStrengthener from the list.
In non-techie terms:
BrickStrengthener is an annoying application that slows down your web browser by displaying commercial ads. These ads can lead to dangerous websites, so it is in your best interests to remove BrickStrengthener from your computer ASAP. Terminate all the potential threats before it is too late to do anything about it.