Do you know what Brality is?
Brality is an extension that, at the moment, only Google Chrome users can install. This extension is still promoted at https://chrome.google.com/webstore/detail/brality/gghpcjhjifkoojkmdooebifjgmfknaao, but it is most likely that the installer will be taken down. Why? Because it is unpredictable, and that does not make it very trustworthy. The extension is represented via brality.com, but this source does not offer anything useful. If you visit this page, you are simply informed that the extension can help you visit your favorite websites in a convenient manner, but it does not explain how that would happen. The "Terms of Service" and "Privacy Policy" links displayed at the bottom of the home page of the website do not work either. In general, the website was only set up to introduce users to the Chrome web store installer. So, should you remove Brality because it does not have a good representation? That is not the only reason to delete this potentially unwanted program (PUP).
According to our research, Brality is identical to Pracember. In fact, even the websites representing these PUPs have identical interfaces, and that indicates that they were created by the same party. Another thing that these extensions have in common is that they are usually introduced to users via third-party websites that force users to install them. Users are likely to be redirected to these websites via misleading advertisements and pop-ups. Once the user lands on the page, it goes full-screen in the attempt to trick them into thinking that they can return to normal web browsing only after they install Brality. That is a very aggressive tactic that has been used recently for the distribution of various PUPs and adware. Needless to say, you should never install extensions or applications when forced to do so, and if you end up installing this software, instead of trusting it, you should delete it immediately.
The main task for Brality is to change your default search provider, and it does that successfully. This ensures that whenever you surf the web via the address bar, all of your searches are rerouted to Google Search. Well, what's wrong with that? There is nothing wrong with Google Search, but the suspicious Brality does not initiate redirecting without a reason. By doing that, it can record information about your activity, and it could be sold to or shared with advertisers and other interested parties. We cannot claim that this would definitely lead to virtual security issues, but it could. Furthermore, there is a chance that the PUP could also adjust the results shown via google.com/search. Overall, all security issues put aside, the PUP does not offer useful services, and that is the best reason to delete it from your operating system.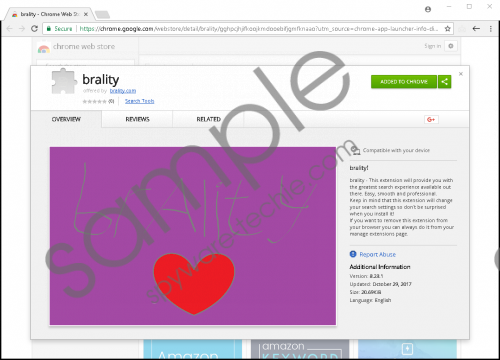 Brality screenshot
Scroll down for full removal instructions
The bad news is that you were tricked or forced into installing Brality. The good news is that this potentially unwanted program is not complicated, and removing it is very easy. But before you follow the guide below, you need to install and run a trustworthy malware scanner. It will let you know if there are any other programs or infections that you must eliminate. Obviously, if there are many threats that you cannot erase manually, instead of focusing on deleting Brality manually, we advise installing automated anti-malware software to have the operating system cleaned from all threats at once. Of course, you have to make sure that the software you install is legitimate and efficient.
Remove Brality
Launch Google Chrome and then enter chrome://extensions/ into the address bar.
In the Extensions menu identify the unwanted add-on and then click the recycle bin next to it.
Select Remove and then eliminate any remaining PUPs or other kinds of threats.
In non-techie terms:
Most users are forced into installing Brality, but others might let this potentially unwanted program by accident. Whatever the case is, there is no doubt that this potentially unwanted program is neither useful nor reliable, and that is why you must eliminate it as soon as possible. You can acquire the extension using the guide above, but, in this case, you will need to take care of other potentially active threats and your system separately. On the other hand, if you install anti-malware software to delete Brality, you will have all other threats eliminated at the same time, and your operating system's protection will be reinforced to ensure that other PUPs or malware cannot slither in against your wishes.