Do you know what Box Rock is?
Box Rock is an adware application that will try to make easy money by promoting potentially corrupted content. This application is not a computer virus because users often install it onto their systems willingly albeit unwittingly. Having one adware program on your computer usually means that you have an entire horde of them, and you need to do something about it. Scroll down to the bottom of this description for manual Box Rock removal instructions. You should also consider investing in a licensed antimalware tool.
Some users may think that Box Rock is a reliable application because it has a website via boxrock.info. However, if you take a closer look at it, you will see that this website is no good. The direct download button does not work – it simply redirects you to a new blank tab. Hence, it is impossible to download Box Rock at the official source, and we can make a conclusion that this application usually gets distributed bundled with freeware. It does not require great effort to put two and two together – Box Rock is simply another program SuperWeb group, so it is a new version of Spark Cast, Platamoose, Rad Rater, etc.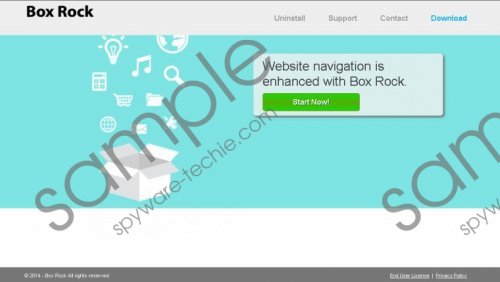 Box Rock screenshot
Scroll down for full removal instructions
All SuperWeb applications employ the same distribution methods. Hence, it is very likely that you installed Box Rock together with other unwanted applications when you downloaded something from a file sharing website. Box Rock may also be hiding behind fake Java and Adobe flash update messages that you encounter online. The most important thing is to understand that when you need to upgrade your applications, you should refer to the official vendors' sites only. Also, do not indulge in freeware downloads from third-party websites on a regular basis because it may result in unwanted software installation.
Once Box Rock gets installed onto your PC, it ads extension to your default browser. Some of the research results show that the newest versions of Google Chrome block Box Rock extension. However, even if your browser rejects this extension, the main files still get installed on your PC. What is more, this application may collect information on your web browsing habits and then use this data to generate customized commercial advertisements. Box Rock ads are something you should be wary of. Although this application does not intend to infect you with malware, Box Rock ads might be embedded with unreliable content.
To protect your computer from any potential security issues, you have to remove Box Rock right now. Open Control panel and uninstall the application manually. Afterwards, do not forget to scan the PC with licensed antispyware tool as you need to be absolutely sure there are no other unwanted applications on board.
How to uninstall Box Rock
Windows 8
Move mouse cursor to the bottom right of your screen.
Click Settings on Charm bar and go to Control panel.
Select Uninstall a program and remove Box Rock.
Windows Vista & Windows 7
Open Start menu and click Control panel.
Go to Uninstall a program and remove Box Rock.
Windows XP
Click Start menu button and go to Control Panel.
Select Add or remove programs and uninstall Box Rock.
In non-techie terms:
Box Rock is a potentially unwanted application that could be exploited by malevolent third parties to infect you with malware or redirect you to online marketing websites. The sooner you remove Box Rock from the PC, the better. Do not forget to invest in a computer security application that would protect your PC from harm.