Do you know what Boravid Extension is?
Boravid Extension is an application that you might want to have active on your operating system. That is so because it is advertised as a great tool that you should have if you wish to download various video content from Vimeo right within your web browser. While it seems like a great tool to have, you must know that it exhibits a few suspicious and invasive features. This is what made our research team to classify it as one more potentially unwanted program that should not be fully active on your PC. To learn more about the inner workings of this suspicious application and to understand why we advise you to terminate it, make sure to read the rest of our detailed report. In addition to this, we provide information about its questionable distribution and a comprehensive removal guide that you need to use to delete Boravid Extension once and for all.
Once Boravid Extension enters your PC, it will install a suspicious browser plug-in, which is known to act in an invasive manner. One of the most annoying things in regards to this is that you are not notified about the questionable extension. At first sight, it might seem like a useful tool as it actually provides you with an ability to download various videos. Unfortunately, that is not all that this potentially unwanted program does. Upon further analysis, our researchers have discovered that the dubious extension can establish a lasting connectivity to an adware server. If this happens, you will notice an unusual amount of unwanted third-party web content. In the majority of cases, such content comes in the form of commercial third-party ads, pop-ups, and coupons. Unfortunately, none of them will be useful in any kind of way. In fact, all the undesirable content will make surfing the web a much more annoying and frustrating experience. In fact, in some instances, the amount of ads, pop-ups, and coupons could prove to be the reason your web browser might simply crash without any warning. It goes without saying that surfing the web will be a much more annoying and frustrating experience than you are used to due to this devious application. To regain your web browser's default settings once and for all, make sure to delete Boravid Extension in its entirety. To do so, make sure to use a removal guide that we provide below.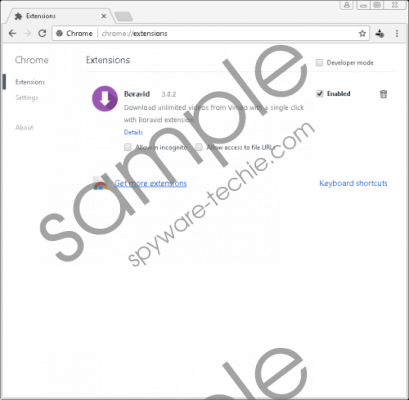 Boravid Extension screenshot
Scroll down for full removal instructions
Another reason Boravid Extension has been categorized as a potentially unwanted program is the fact that it could be spread in suspicious ways. While you can obtain it from its official websites, you must be aware of the fact that this potentially unwanted program could be distributed via bundled installers. If you want to avoid infecting your PC in such a way, you must take preventative steps. Firstly we advise you to always learn as much as possible about any program that you are about to download since in quite a few cases malware developers use misleading marketing techniques to trick unsuspecting Internet users into downloading and installing a program without understanding how it actually works. Additionally, you need to refrain yourself from unauthorized third-party download websites since they are infamous for hosting bundled installers. Furthermore, be sure to always pay your full attention to every single installation procedure as you could come across a chance to cancel the installation of some undesirable program by simply unmarking a single box. Finally and most importantly, you need to install a professional antimalware tool if you do not have one already. Such a tool is critical because it can detect and delete any devious application in an automated manner.
We highly advise you to delete Boravid Extension in its entirety. This is important because the negative and invasive features of this potentially unwanted program obviously outweigh the positive ones. To remove it, make sure to follow the instructions that we provide below. It is important to note that in a case of an incomplete removal the devious third-party content could continue to bother you while you are browsing the web. To avoid finding yourself in such a situation, make sure to perform an in-depth analysis of your computer for traces associated with Boravid Extension. Such analysis must be executed as soon as you are done with the instructions below.
How to remove Boravid Extension from your PC
Google Chrome
Start your web browser.
Click the Chrome Menu button select Settings.
Click Extensions.
Click the Trash can icon next to the unwanted extension.
In non-techie terms:
We are well aware of the fact that some users are not comfortable performing manual removal and analysis of their PC. If you happen to be one of those users, do not worry. Make sure to follow the instructions that we present below. This way you will be able to delete Boravid Extension automatically.