Do you know what BooZaka Ads are?
BooZaka Ads are a series of commercial pop-ups that are generated by BooZaka adware application. This program is developed by SuperWeb LLC and it is one of the many adware applications from the same family that are circulating around the web. We can see that BooZaka Ads are related to Rock Turner Ads, Cling Clang, Laflulra and other similar applications just by taking a glance at its homepage via boozaka.net. All of the SuperWeb adware websites look identical and they are not even functional. There is no use of this application, so you need to remove BooZaka Ads from the system ASAP.
However, since the download at BooZaka Ads homepage does not work, we need to pay attention to another method of distribution that is employed by this application all of the time – bundled downloads. BooZaka Ads is considered to be a rather new application and its bundling with other adware may increase within a month or so. However, considering that some users have reported being "infected" with BooZaka Ads, it means that it gets distributed around already.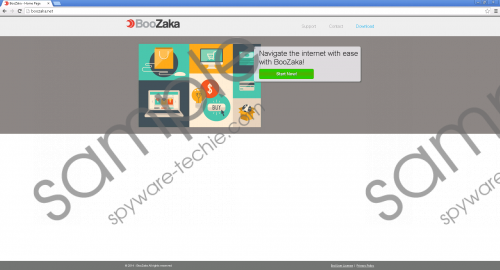 BooZaka ads screenshot
Scroll down for full removal instructions
The word "infected" was taken into quotation marks, because this adware application cannot be considered a genuine computer virus. Naturally, it does get installed silently onto your computer, but it is not a direct system security threat. BooZaka adware application functions like browser plug-in – the extensions are added to all main browsers (Mozilla Firefox, Google Chrome, Internet Explorer) and after a while, once you access an online shopping website you will be displayed BooZaka Ads. These ads will be signed as "ads by Boozaka" or "BooZaka ads". Also, in some cases your default search page may also have an additional search toolbar, where each of your search queries would be redirected to YouTube, Flickr, eBay or Twitter.
Naturally, such behavior is not illegal, as it is exhibited by a variety of legitimate browser extensions. However, due to the fact that BooZaka Ads arrive bundled with freeware and the application constantly displays commercial ads, you should seriously consider removing BooZaka Ads from the system right now. Not to mention that there are bound to be other potentially unwanted applications on your computer, because the likes of BooZaka Ads do not travel on their own.
Uninstall BooZaka and then acquire a licensed antimalware tool that will help you run a full system scan. The extension will be automatically removed from your browser once you terminate BooZaka Ads via Control Panel. Do not forget you safeguard your system from a number of potential threats.
How to remove BooZaka Ads
Windows 8
Slide mouse cursor to the bottom right of your desktop.
Wait for Charm bar to appear and then click Settings.
Go to Control Panel and click Uninstall a program.
Highlight BooZaka and press Uninstall.
Windows Vista & Windows 7
Open Start menu and click Control Panel.
Go to Uninstall a program and remove BooZaka.
Windows XP
Open Start menu and navigate to Control Panel.
Select Add or remove programs and uninstall BooZaka.
In non-techie terms:
BooZaka Ads are annoying pop-ups that appear on your browser when you are infected with adware. To get rid of these pop-ups, you need to remove BooZaka adware application from your computer and then make sure that no similar programs are installed on the system.