Do you know what Boomdeal is?
There is no doubt that Boomdeal is an advertisement-supported program, because it employs tracking cookies to learn more about you and your activity and then presents online advertisements. Instead of producing their own advertisements, the developers of the program connect to advertising domains that carry different ads. Unfortunately, this connection is considered to be a security backdoor, and so you should delete Boomdeal for virtual security reasons. Those who do not realize how important it is to remove adware (advertisement-supported software) will have to suffer consequences. If you do not want to put your own virtual security on the line, you should not postpone the removal of adware for much longer.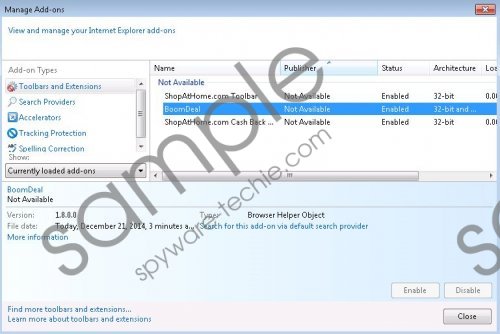 Boomdeal screenshot
Scroll down for full removal instructions
Boomdeal is very similar to Boomcheap, DownPay, Coolbuy, and similar browser extensions. Even though these programs may be operated by different parties, all of them have been created using the JustPlugit framework. The good news is that the removal of these applications is quite straightforward. The bad news is that these applications are usually installed with other software. Most programs installed together with Boomdeal will not be reliable. In fact, it is most likely that you will have to remove them from your operating system as well. Even though it is important to remove Boomdeal to disable the potentially unreliable advertisements, it may be much more crucial to delete other applications associated with it. Install a malware scanner to identify all of the unreliable applications active on your operating system.
Can you handle the infections identified by a malware scanner? If you think you can delete them manually, we recommend using the malware scanner again to check your process. What if the manual removal is not successful? In that case you should install a reliable security tool that will remove Boomdeal and other active threats automatically. Keep in mind that if you keep Boomdeal active, you will be bombarded by pop-ups and banner advertisements that may open security backdoors for even more dangerous threats.
Delete Boomdeal from Windows
Delete from Windows 8:
Access the Metro UI menu and right-click on the screen .
Select All apps and open the Control Panel.
Move to Uninstall a program and right-click Boomdeal.
Select Uninstall to remove the unwanted application.
Delete from Windows Vista & Windows 7:
Click the Windows button on the Taskbar.
Open the Control Panel to find more options.
Click Uninstall a program.
Right-click and Uninstall the program you have chosen to remove.
Delete from Windows XP:
Click the Start button on the Taskbar.
Open the Control Panel.
Double-click Add or Remove Programs.
Remove the undesirable application.
In non-techie terms:
We recommend removing Boomdeal, because this advertisement-supported program is not beneficial. Instead of the promised beneficial deals and offers, Boomdeal is more likely to present useless and irritating pop-up or banner ads that may be controlled by unreliable parties. If you cannot delete this application manually, you should install an automatic removal tool that will help you out. Are you having problems with the installation of this software? You can use the installation instructions below.