Do you know what BoomCheap is?
If you cannot browse the Internet as usual because you are provided with various advertisements labeled "By BoomCheap", it is time to install a reputable malware and spyware prevention program. BoomCheap is a free browser add-on which displays coupons, web banners, in-line advertisements, and other ads in order to help you find online deals that match your budget. However, among all those pop-ups and web-banners, you may encounter deceptive advertisements. BoomCheap does not endorse the advertisements displayed, which means that online scammers may use the service of BoomCheap to promote their deceptive advertisements. You may be offered fake system scanners, software updates, and other services which may turn out to be a fraud.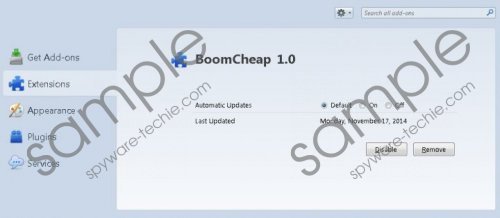 BoomCheap screenshot
Scroll down for full removal instructions
BoomCheap was created using the JustPlugIt platform, which is also known as MultiPlug. The program is similar to many other JustPlugIt-based browser add-ons, such as DownPay, CouponEx, Cheap Coupon, to mention just a few. All these programs are categorized as adware, and they can be removed from the computer using a reputable security program. BoomCheap is also included on the detection list of certain security programs, and we urge you to implement one that is capable of eliminating the BoomCheap browser add-on.
BoomCheap is compatible with Internet Explorer and Mozilla Firefox, and BoomCheap pop-ups are displayed on virtually every website you access, including well-known shopping websites. The program starts running automatically once you log on to the computer, and, more important, the browser add-on monitors the user's online behavior. The BoomCheap browser add-on uses certain tracking techniques to monitor your online behavior. For example, the program records clicks, browsing history, search terms, time spent on various websites, browser type, operating system, and other anonymous information available on the website. This information is recorded for the purpose of determining users' interests and adopting new advertising strategies. In some cases, personally identifiable information may be recorded, which depend on how you use the Internet and want information you reveal when using Internet browsers.
As for the removal of BoomCheap, we recommend that you implement a powerful anti-malware program even though you may manage to uninstall BoomCheap using the following instructions. An unprotected operating system can get easily infected by various malware programs, such as Trojan horses, cookies, etc., and you should make sure that your operating system is shielded from malware and spyware threats.
How to remove BoomCheap
Windows Vista and Windows 7
Click Start.
Select Control Panel.
Click Uninstall a program.
Remove BoomCheap.
Windows 8
Press Win+R and enter control panel.
Click OK.
Select Uninstall a program.
Remove the unwanted application.
Windows XP
Click Start.
Select Control Panel.
Click Add or Remove Programs.
Uninstall the unwanted application.
In non-techie terms:
BoomCheap is an advertising-supported browser add-on displaying third-party advertisements on various websites. In order to put an end to the distribution of questionable offers, you should remove BoomCheap from the computer. Use our recommended security program to get rid of BoomCheap, and, if you need help with the installation of the program, use the following installation guide or contact our team.