Do you know what Bold Letters is?
Bold Letters is something you definitely would not want on your computer if you knew what it was the moment you install it. Unfortunately, quite a few users think that Bold Letters is a useful application that can improve their online search experience. Our research lab team says that you should remove Bold Letters immediately if you want to avoid serious computer security issues. This program is an adware application, and as such, Bold Letters displays a lot of commercial content that may not always be safe.
It is common to see users say that Bold Letters is a computer virus. That is not true. You probably would not even notice that you have a virus on-board before it is too late to do anything about it. Bold Letters is just an adware application, and adware programs seldom enter target systems surreptitiously. You must have installed Bold Letters on your computer with some freeware apps you have recently downloaded from a third-party source. Needless to say, you ought to remove those freeware apps as well, because if they come bundled with Bold Letters, you cannot expect anything good from them.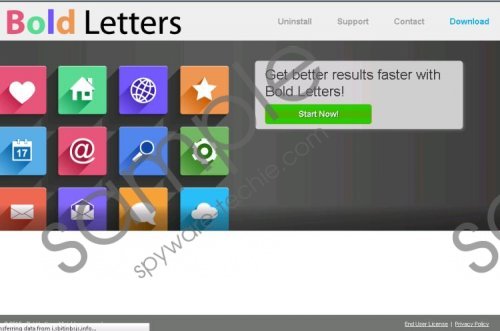 Bold Letters screenshot
Scroll down for full removal instructions
What's more, if you have ever come across boldletters.net, you must have noticed that the website is of no use. You cannot download Bold Letters directly, and there is barely any information provided on the application. However, the layout of the website offers us a very important clue. We can tell immediately which adware family Bold Letters comes from. This kind of website layout is used by all the SuperWeb applications. Thus, from this we can establish the program's associations, and we can get the general idea what you can expect from Bold Letters. After all, this program is a direct clone of Spark Cast, ZoneTrek, Ace Race, and many other similar applications.
The SuperWeb programs are usually promoted as reliable browser extensions that can either improve your web search or help you shop online, by offering you the best coupons and discount offers. Sadly, neither Bold Letters nor any other application really lives up to their promises. On the contrary, Bold Letters adds a plug-in to your default browser in order to track your online activity. As a result, the program knows what websites visit and what search queries you enter into your search engine. And if you do not remove Bold Letters from your computer right now, sooner rather than later this application will leak this information to cyber criminals.
This is the main problem when it comes to the adware programs. They simply cannot be trusted. Thus, follow our instructions below to remove Bold Letters manually, and then do not forget to scan the PC with a legitimate antispyware application. If Bold Letters entered your PC with other unwanted programs, you certainly have to get rid of them as well. Your computer's security should be your utmost priority.
How to Delete Bold Letters
Windows 8 & Windows 8.1
Move the mouse cursor to the bottom right of the screen.
Click Settings on the Charm bar and go to Control Panel.
Open Uninstall a program and remove Bold Letters.
Windows Vista & Windows 7
Click the Start menu and go to Control Panel.
Select Uninstall a program and remove Bold Letters.
Windows XP
Click the Start button and open Control Panel.
Access Add or remove programs and uninstall Bold Letters.
In non-techie terms:
Bold Letters will not help you find the best books on the Internet. This program is not useful. It only takes up your system resources and slows down your browser. Remove Bold Letters to protect your computer from potential security threats. If you need any further assistance with software removal, please leave us a comment.