Do you know what Bogots.com is?
Bogots.com is not a pleasant surprise on your computer, although it does surprise you as it appears as your new home page when you start up your browser. This search engine gets set without your permission as home page and default search engine in the three main browsers, such as Internet Explorer, Mozilla Firefox, and Google Chrome. Since all the changes are made silently, without your knowledge, you have been infected with a browser hijacker. The bad news is that Bogots.com travels with a bunch of other infections, so you cannot waste time, you need to act now if you want to restore your virtual security. Removing Bogots.com will not be sufficient in this case because it may be regenerated if the other components remain on your system.
This browser hijacker targets Brazilian computer users, but that certainly does not mean that you are safe wherever you are on the globe. Bogots.com mainly spreads in infected freeware bundles, which can be downloaded from suspicious file-sharing websites from anywhere. So if you are a fan of freeware and like to try new things from time to time, you need to be careful about your choice of websites and the links you click on. One wrong click and you may end up with such a bundle. Our malware researchers have tested this browser hijacker in our internal lab and found that it comes with a number of malware infections, including WNet, CashReminder, ActSys, and GOSafer. These programs may expose you and your system to dangerous third-party content and cyber criminals. We hope that you understand the urgency of deleting Bogots.com and all these other infections.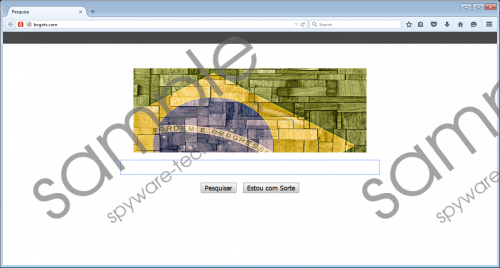 Bogots.com screenshot
Scroll down for full removal instructions
Bogots.com is a very plain search website; there are no easy-access links to popular websites, no graphical design – nothing, except for the search box and the two buttons below. This tool is totally useless and unreliable. First of all, it uses a redirection to show you a Yahoo! Search results page. Second, these results might be altered by this hijacker. It gets more serious and more deceptive when Bogots.com starts to display third-party ads and sponsored links that may be related to you in a way. It can do so by collecting information about you through web cookies, pixels, and other means. You need to be very careful not to click on any result or ad shown by this hijacker as you might land on an unsafe website as a result. That could be really detrimental to your computer that already has multiple problems, and your system is most probably being attacked by the related infections as you are reading our article. Not dealing with these threats might even result in a crippled system. Act now and save your PC from these infections.
If you want to fight the war on this malware manually, you need to know that it will not be a one-button-click kind of elimination. As a matter of fact, you have to fight each battle with all the infections from this bundle in order to win the war and get rid of this lot once and for all. Therefore, the first step is to uninstall WNet, CashReminder, ActSys, and GOSafer malware applications via Control Panel. If this somehow leaves some leftovers, you need to manually remove some files. Find the following folder in your Windows File Explorer: Windows\System32\drivers and delete the files called asfilterdrv.sys, crfilterdrv.sys, gosaferdrv.sys, and ssfilterdrv.sys. If you have any questions regarding Bogots.com, please leave us a comment below.
Bogots.com Removal from Windows
Windows XP
Open the Start menu and choose Control Panel.
Click Add or Remove Programs.
Find the malware apps and Remove them all.
Windows Vista/Windows 7
Click the Windows button in the bottom-left corner.
Open Control Panel.
Access Uninstall a program.
Identify the malware apps and Uninstall them all.
Windows 8/Windows 8.1
Press Win+X and choose Programs and Features.
Locate the malware apps and Uninstall them all.
Windows 10
Press Win+I and open Control Panel.
Access Uninstall a program.
Identify the malware apps and Uninstall them all.
In non-techie terms:
Bogots.com is a Brazilian browser hijacker that comes on-board in the company of a couple of other malware programs. If your system is infected with this hijacker, you have multiple security issues to face. This search engine may also present you with unreliable search results that might redirect you to unsafe websites. Therefore, it is important that you remove Bogots.com and all other threats that may have traveled with it. We recommend installing reputable security software so that you can detect and eliminate all the present dangers and protect your PC from future ones as well.