Do you know what BoBrowser is?
BoBrowser is a potentially unwanted program, or PUP, which most computer users install by accident or without fully knowing how it works. The suspicious application developed by CLARALABSOFTWARE is officially represented at bobrowser.com, and the information on this site is highly attractive. It is unlikely that many users would pass up and opportunity to install a free browser that offers antivirus and malware protection services. Unfortunately, you should delete BoBrowser from the PC because it just another falsely promoted program that will not work beneficially. In fact, if you do not remove this PUP, it is most likely that you will be flooded with various disturbing advertisements.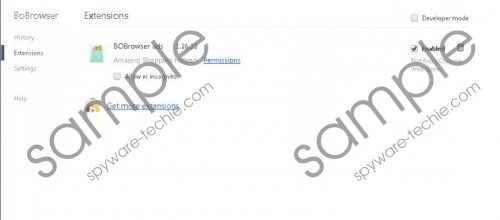 BoBrowser screenshot
Scroll down for full removal instructions
Even though we identify BoBrowser as a PUP, there is no doubt that this program has some features of advertisement-supported software, or adware. As soon as the browser is installed, it enables third parties to present various offers which may show up with such tags as "By bobrowser ads", "Brought by BoBrowser ads" or "Ad by BoBrowser ads". We recommend that you remove any advertisements which are presented by unfamiliar parties, and BoBrowser certainly works with some suspicious companies. Keep in mind that the undesirable browser, that deceivingly looks just like Google Chrome, is often installed packaged with adware (e.g., Adware.MySafeProxy, Adware.SpeedChecker), which means that you may face additional, unidentified ads as well. You will disable all ads only if you remove running adware, and we suggest starting with BoBrowser removal.
Can you find and delete all unreliable programs running on the PC? If you cannot, it is most likely that the manual removal option is not for you. Sure, you can delete BoBrowser from the PC using the simple removal guides below; however, the additionally running programs may be much more problematic. If you lack knowledge or experience, it is best to install automatic malware removal software. This software is exceptionally useful in case dangerous programs are running on the operating system together with the relatively harmless PUP.
Delete BoBrowser from Windows
Delete from Windows 8:
Tap the Windows key on the keyboard to access the Metro UI menu.
Right-click on the screen and click All apps to open the Apps menu.
Select Control Panel and then click Uninstall a program.
Right-click and Uninstall the undesirable application you want to remove.
Delete from Windows Vista or Windows 7:
Click the Windows button on the Taskbar to open the Start menu.
Select Control Panel and then click Uninstall a program.
Right-click the application you have chosen to remove and click Uninstall.
Delete from Windows XP:
Open the Start menu from the Taskbar and select Control Panel.
Double-click Add or Remove Programs and select Change or Remove Programs.
Find the undesirable application and Remove it.
In non-techie terms:
BoBrowser is a potentially unwanted program which, instead of working as a regular browser, presents disturbing and unreliable online advertisements. We do not recommend installing this PUP onto the PC; however, if you have downloaded it by accident together with other unreliable programs, you must install automatic malware removal software right away. Our malware researchers have analyzed the PUP in the internal lab, and they suggest that the automatic removal option is most beneficial.