Do you know what BlueEagle Ransomware is?
BlueEagle Ransomware is a dangerous malware infection that you should wish to avoid at all costs. This ransomware hits real hard by encrypting all your personal files and demanding a very high ransom fee for the unique decryption key. In fact, this fee is so high that we assume that these criminals mostly target bigger companies since the average user would not possible have this kind of money for recovering lost files. Of course, it cost you a lot less to have a portable drive to save backups regularly so that you could save yourself in such a situation or you can also use cloud storage for your safety. Even if you had this money to pay for the decryption of your files, we would not recommend it unless you want to waste it on top of your files. There is little chance that these criminals will really send you the decryption key. Of course, it is your decision to make. We certainly advise you to remove BlueEagle Ransomware from your computer as soon as possible so that you can start restoring your files if you have a backup. Please read our full report if you want to learn more about this dangerous ransomware program and how you could possible avoid similar hits.
The most likely way for you to infect your system with this malicious threat is to execute the attachment of a spam e-mail. It is quite possible that you have opened a spam mail recently that had an attached file claiming to be a scanned copy of an allegedly unsettled invoice or proof that you gave the wrong banking details while shopping online or booking a flight, and so on. Since this spam appears to be authentic, it can be very deceptive for even more experienced computer users. This mail can have believable senders which could even show up in a web search as existing, real people if you checked. Of course, these crooks may not always use real sender names but you may not even have a doubt when looking at this spam; that is the trick. But when you open this mail, you will not be all the wiser since it will either present to you a link to download a file from a storage place or it will point to the attachment to save it and view it for further details. Keep in mind that running this file can damage all your important files, which means that even if you delete BlueEagle Ransomware from your system, your files will not be recovered just like that. In fact, there is no alternative to having the decryption key.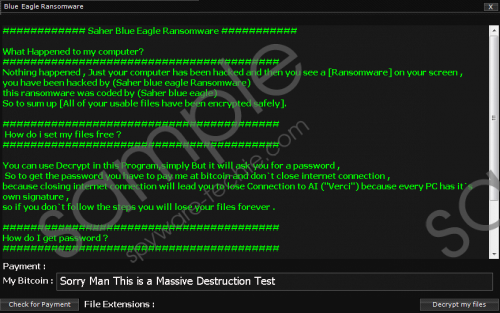 BlueEagle Ransomware screenshot
Scroll down for full removal instructions
It is quite easy to see the extent of the devastation after you do run this malicious attachment because all the encrypted files will have the same (".SaherBlueEagleRansomware") extension. In this attack you may lose all your photos, videos, audios, documents, archives, and databases, which is a severe blow to your system and to you, too. After the damage has been done, this ransomware program changes your desktop background with its ransom note window. This warning tells you that your computer has been hacked and your files encrypted, and you must not close the Internet connection or else you would lose the possibility to decrypt them. You have to send 1.25 BTC, which is at 7,609 USD right now, if you want to get the password this ransomware program requires you to enter when you press the "Decrypt my files" button. We have also found that when you actually press this button, it executes "shadowdeleter.exe" to delete all your files' shadow volume copies. We do not encourage you to pay this brutal fee because you could easily lose your money, too. We suggest that you remove BlueEagle Ransomware right away.
It is not too complicated to clean this serious threat from your computer. You can actually do this manually if you follow our guide below this article. We also understand that this may not be your "cup of tea" so we advise you to use a reliable anti-malware program, such as SpyHunter, from now on to keep your computer secure and protect you from all possible malicious attacks. But even if you are protected with such security software, you need to remember to keep all your programs up-to-date for better efficiency against cyber attacks.
BlueEagle Ransomware removal from Windows
Tap Ctrl+Shift+Esc simultaneously to bring up Task Manager.
Select the malicious process (if it is still operating) and press End task.
Then, select the File menu and go to Run new task.
Type explorer.exe in the box and press the Enter key.
Close the Task Manager.
Tap Win+E.
Scan your download folders for suspicious files you have downloaded recently and bin them.
Delete these files:
%TEMP%\SaherBlueEagleVirus.exe
%APPDATA%\Microsoft\Windows\Templates\shadowdeleter.exe
Empty your Recycle Bin and reboot your system.
In non-techie terms:
BlueEagle Ransomware is a severe hit to your computer that can destroy all your important files in no time and extort a brutal amount of ransom fee from you in exchange for the decryption key. We do not advise you to pay this fee though because you cannot know for sure that these villains actually send you anything but more malicious threats. The only ways to prevent such a serious attack is to be more cautious around your e-mails since this ransomware may be spread that way, to keep your browsers and drivers updated, to avoid visiting suspicious websites, and, of course, to install a powerful anti-malware program as soon as you can. It is also important that you save backups frequently so that you can recover your files if anything like this should happen. It is vital that you remove BlueEagle Ransomware from your system immediately. If you want proper protection on your computer, you should consider employing a trustworthy anti-malware program.