Do you know what BlueAmulet is?
BlueAmulet should not be kept installed because this program is classified as an advertising-supported application (adware). At first sight, it seems that adware programs are not harmful at all; however, people notice very soon that they display very annoying advertisements. In fact, it is not the only activity they perform. Our researchers have carried out a research and found out that BlueAmulet can also connect to the Internet without your permission and there is a possibility that it will record details associated with your browsing habits in order to display commercials. The only way to stop this from happening is to erase BlueAmulet. We will tell you how you can do that in this article, so continue reading it.
Even though BlueAmulet can perform several suspicious activities, the most disturbing thing about this program is that it shows various commercial advertisements. Yes, ads do not look harmful, but you should know that they might contain links to corrupted websites. In other words, you might end up on a website full of malicious software after clicking on a single advertisement displayed by BlueAmulet. It is not so easy to delete malware from the system, so we think that you should not risk infecting your system with it. In order to reduce the possibility of encountering suspicious software, you should, of course, delete BlueAmulet and all other programs that have entered your system with it.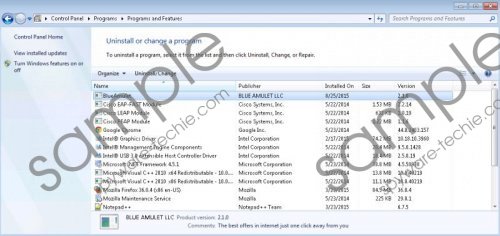 BlueAmulet screenshot
Scroll down for full removal instructions
Yes, there is a huge possibility that BlueAmulet is not the only untrustworthy program installed on your system. Researchers have noticed that this adware usually travels bundled with GlobeGator and GuardedWeb; thus, you might not stop seeing ads after you remove BlueAmulet. In order to eliminate all these annoying commercials from the screen, you have to delete all advertising-supported applications. The easiest way to detect them is to scan the system with a diagnostic scanner. Of course, you can try doing that yourself as well. We recommend checking the list of programs in Control Panel and the list of add-ons on all your browsers (Internet Explorer, Google Chrome, and Mozilla Firefox).
You can erase BlueAmulet from the system via Control Panel, but if you are a less experienced user, you can leave this work for an automatic malware remover. We are keen on using automatic tools because they delete all kinds of threats very quickly and they protect the system from future ones that might be much more serious. There are hundreds of security applications available, so we understand that it is not so easy to decide which one to install on the system. If you want to acquire a really trustworthy tool, we recommend investing in SpyHunter. This antimalware suite will not disappoint you.
How to get rid of BlueAmulet
Windows 10
Tap the Windows key + R and enter Control Panel.
Click OK and open Uninstall a program.
Select the adware program and then uninstall it.
Windows 8
Access the Metro UI and start typing Control Panel with your keyboard.
Open it and click Uninstall a program.
Select the undesirable application.
Click Uninstall.
Windows 7 and Vista
Tap the Windows key on your keyboard and open Control Panel.
Click Uninstall a program.
Right-click on BlueAmulet.
Click Uninstall.
Windows XP
Click on the Start button.
Select Control Panel.
Click Add or Remove Programs.
Select the application that you wish to erase.
Click Remove.
In non-techie terms:
If you have used our manual removal instructions to erase BlueAmulet, there is no doubt that they have not helped you to get rid of other untrustworthy programs. Luckily, you will be able to remove them by scanning your system with an automatic tool. More experienced users can also do that themselves too.