Do you know what Blue Bulletin is?
Blue Bulletin is an advertising-supported program that displays a huge amount of commercial content on your Internet browser. It is best that you remove this adware application if you do not want it interrupting your everyday web browsing activities. Not only "Ads by Blue Bulletin" or "Provided by Blue Bulletin" might considerably slow down your Internet surfing, but also know that this adware app does not monitor the links it displays. Thus, clicking on any of the Blue Bulletin-promoted products, services, or software updates, might take you to sites where malicious content resides. So the annoying commercial material is not the only reason why you should delete Blue Bulletin as soon as you notice it on your computer.
It seems this adware program should be distributed via bluebulletinboard.com; however, it is impossible to download this application from this site. In fact, this page is there only to convince users that this application is legitimate. The applications developed by SuperWeb LLC are known to use this tactic; thus, if you visit the official sites of such programs as Spark Cast, Web Waltz, Web United, and others, you will notice not only the same page layout, but also the same vague product description. You should remove Blue Bulletin from your machine because, like the other mentioned SuperWeb applications, it does nothing besides turning into a risk for your computer's security.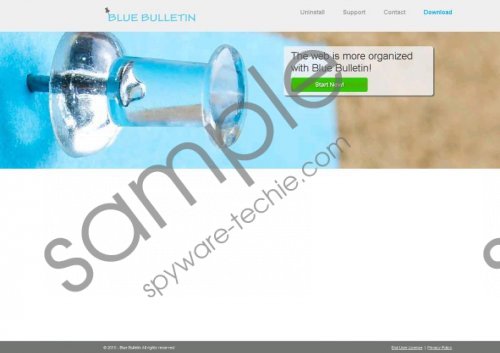 Blue Bulletin screenshot
Scroll down for full removal instructions
As there is no direct way to download Blue Bulletin, this application surely gets distributed bundled with freeware or shareware via suspicious third-party sites. You might end up installing not only this adware application, but also additional malicious apps if you fail to follow the information that is provided on the installation wizard. All in all, you should avoid installing programs that you need to remove afterwards, so opt for legitimate software that comes from reliable sources.
Computer users also choose to delete Blue Bulletin for the tracking cookies it uses to record information about your browsing history. The aim is to provide you with the content you would access, thereby increasing web traffic for the third-party sites. However, this activity seems suspicious, so we do not recommend trusting this application completely; what is more, Blue Bulletin might be exploited by cyber criminals to deploy malware on target systems.
To avoid the unfortunate accidents when you infect your system with malware, remove Blue Bulletin right now. All you need to do is to access the program list of Control Panel and choose the application. However, it might be possible that there are other unwanted applications on your machine; in these cases, the best way to check for malicious content is to scan your system with reliable antimalware software. We advise that you invest in this tool because it is indispensable when it comes to intercepting threats just before they attempt to undermine the security of your computer.
Delete Blue Bulletin
Windows 8 and 8.1
Open the Charm bar.
Choose Settings and click Control Panel.
Open Programs and Features.
Find Blue Bulletin in the program list and select it.
Click Uninstall/Change.
Windows 7 and Vista
Open the Start menu.
Go to Control Panel.
Open Programs and Features.
Select Blue Bulletin in the program list.
Click Uninstall/Change to remove the unwanted program.
Windows XP
Open the Start menu.
Go to Control Panel.
Open Add or Remove Programs.
Click on Blue Bulletin.
Click Remove to terminate the unwanted program.
In non-techie terms:
Blue Bulletin is another SuperWeb application that will spam your browser with pop-ups, banners, in-text ads, and other forms of online advertising. This adware application might easily turn into a security issue because it can be exploited by malicious entities to expose your system to Internet-based infections. Invest in a legitimate antimalware scanner that will automatically detect and remove the infections from your machine.