Do you know what Blitz Media Player is?
Blitz Media Player is a program which claims to be a modern video player. This software is published by Jenkat Media, Inc. and can be downloaded from its official website blitzmediaplayer.com. This program is not a threat itself; thus, there is no need to remove it from your system. However, some researchers classify this software as a potentially unwanted program because it might come onto your computer without you even noticing it. Blitz Media Player is compatible with all the versions of Windows, which is why there is a high possibility that you will come across it onto your computer despite the fact that it is the most popular in the United States. If you notice any annoying activities that Blitz Media Player perform or you have just decided to erase it without no particular reason, read throughout the article to find out how to do that.
Have you downloaded this program because you have been captivated by all the useful features that it contains? You are not the one; many people use this program because it claims to be able to play music in various formats without any trouble, supports a variety of codecs, including FLV, MKV, and AVI, which means that you will not have to download codecs separately anymore. In addition, a lot of users report to be very satisfied with this program because it is very simple to use and there are only the most necessary buttons on it which will allow you to add file and open it easily. You will be able to see the Title, the File Name, Length, Type, and Location of the music or video file. It is rather useful and you do not have to spend hours learning how to use this player.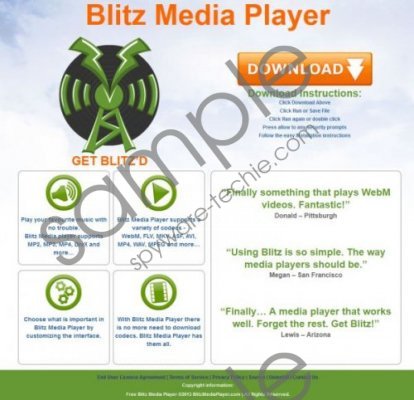 Blitz Media Player screenshot
Scroll down for full removal instructions
Blitz Media Player tends to be reported as a potentially unwanted application when people find it on their computers and do not know how it could get there. It has been found out, that Blitz Media Player is distributed through bundled downloads as well, which means that you do not have to download its setup from its website and install it in order to notice it on your system. Do you want to avoid similar programs in the future? Make sure that you select custom installation every time you are eager to install a new program. In this case, you will be able to select only those programs that you want to be installed, which means that unnecessary and unfamiliar ones will be left behind.
Are you sure that you want to get rid of Blitz Media Player? We hope that we will be able to help you by providing manual removal instructions which you will find if you scroll down. However, you should still scan your computer with a reliable antimalware tool because there might be other serious threats, for instance, Trojans, adware, and a dozen of other ones onto your computer. We recommend using SpyHunter because we know that it is able to deal with malicious software and keep your computer protected all the time.
Remove Blitz Media Player
Windows XP
Open the Start menu and select Control Panel.
Click Add or Remove Programs and select the unwanted application.
Click the Remove button.
Windows 8
Right-click on the Metro UI background and then select All apps.
Find the Control Panel and then select it.
Go to Uninstall a program and right-click on the unwanted application.
Click the Uninstall button to erase it.
Windows Vista and 7
Click on the Start button and then select Control Panel.
Select Uninstall a program and right-click on the application.
Click the Uninstall button to erase it.
In non-techie terms:
There is no need to remove Blitz Media Player immediately because it is not a threat itself. However, if you have not downloaded it from its official website, it means that it came onto your computer in a bundle together with other programs. You should use this software carefully and acquire a reliable antimalware tool to avoid different kinds of threats in the future.
Aliases: Blitz Player.