Do you know what BlingJobs is?
BlingJobs has proven to be an unreliable desktop application after careful inspection in our internal lab. According to our researchers, this is an ad-supported program that may disrupt your virtual experience by showing potentially unsafe third-party advertisements on your computer screen. Many users fall into the trap of adware applications and believe that these are innocent programs displaying harmless and sometimes useful advertisements. We have bad news for these users: Adware programs may not be the beasts of malware infections, but they can still put your computer at risk. Keeping this application on your computer may result in more infections or exposure to criminals and online scams. Therefore, we think that you should remove BlingJobs if you take your virtual security seriously.
Hopefully, you have never found and visited the official webpage, blingjobs.com, because we have another bit of bad news for you: This page offers you an installer that can be dangerous to your computer. As a matter of fact, reliable security programs usually flag this site for containing malicious programs. According to our researchers, this officially promoted installer is packed with malicious software installers, which makes this application rather suspicious right away. These infections can be different from region to region and also may change with time, but you may find threats, including MyPcBackUp, Yoursearching.com, and System Healer, traveling in this installer. This means that by thinking that you are installing this allegedly useful application that offers you an opportunity to find your "dream job," you actually allow potentially unwanted programs, browser hijackers, and adware applications to enter your virtual "kingdom." Guess what happens when they start to operate! Well, we can tell you this: You will be exposed to all kinds of potentially unreliable third-party content through advertising. This never ends well for unsuspecting computer users. You may even accidentally click on such content and end up on malicious websites or on the hook of cyber criminals.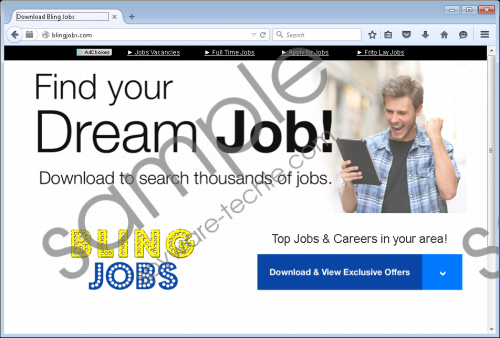 BlingJobs screenshot
Scroll down for full removal instructions
However, it is more likely that you get infected with this adware by clicking on modified search results shown by browser hijackers. In this case it is quite obvious that your computer had to be infected with browser hijackers beforehand. So this adware may not be the first infection on board. But this adware might also enter your computer in free software bundles packed with malware threats. You can see now that no matter how this application shows up on your computer, you need to address these security issues ASAP. Even if you delete BlingJobs right now, you will also need to scan your computer with a reliable malware scanner to find all other infections. For this, you can use a free online scanner; just make sure you can trust its reports.
Although this desktop application promises you the dreams job of your life, it is just another worthless adware program that may put your virtual security at risk with its third-party advertisements. Our researchers have noticed that this adware is very similar to NewsCert and Moneyzila, which are potentially unwanted programs. This ad-supported program loads legitimate-looking websites, such as startacareertoday.com and may also promote them through Internet Explorer. Keep in mind that clicking on any advertisements shown by this program may be risky as you may be redirected to suspicious websites run by cyber criminals. If you want to keep your computer clean and free from malware threats, we advise you to remove BlingJobs immediately.
Unfortunately, even the uninstaller of this useless adware does not work perfectly as it leaves a couple of registry keys on board. Therefore, after removing BlingJobs through Control Panel, you need to take care of these leftovers. We have included a step-by-step guide for you in case you need help with this. Since it is quite likely that your computer has been infected with a number of infections, we recommend that you do not stop at this point. You need to act before these threats take their tolls and do damage to your computer. You can either try to identify these manually, through the list of installed programs in your Control Panel or the extension lists in your browser settings, and then try to find descriptions on our website using the search box at the top, or you can use a professional security tool. Obviously, using anti-malware software is a lot easier, safer, and more efficient as well, but it is up to you how seriously you want to protect your PC, your privacy, and your files as well.
Remove BlingJobs from Windows
Windows8, Windows 8.1, and Windows 10
Tap Win+Q and type in Uninstall a program. Hit Enter.
Select the program and press Uninstall.
Windows Vista and Windows 7
Press the Windows button on the Taskbar.
Choose Control Panel and click Uninstall a program.
Select the program and press Uninstall.
Windows XP
Tap Win+R and enter Control Panel. Click OK.
Pick Add or Remove Programs.
Select the program and press Remove.
Manual Instructions
Tap Win+R and enter regedit. Click OK.
Find these registry keys and delete them:
HKCU\Software\Microsoft\Internet Explorer\DOMStorage\blingjobs.com
HKCU\Software\Microsoft\Internet Explorer\DOMStorage\www.blingjobs.com
Close the registry editor and reboot your system.
In non-techie terms:
BlingJobs is a potentially harmful desktop application that may bring other malware threats on board as well. This adware program, just like all the other infections that can come in the same installer, may introduce you to potentially dangerous web content through third-party ads, for example. Clicking on these ads may take you to malicious websites. That is why our researchers advise you to remove BlingJobs and all other infections as well if you want order on your system. It is possible that you do not want to spend time and energy on chasing potentially harmful programs manually; therefore, we recommend you SpyHunter as a potential solution for your problem. This anti-malware software can detect and eliminate all known malware infections and protect your PC from further invasions.