Do you know what BlastJob is?
We are almost one hundred percent sure that BlastJob is not the application that could help you find your dream job because the program is considered adware. If you installed the software hoping it would show job advertisements, you can remove it at once since you will receive commercial ads instead. As expected from adware application, it gathers user's information related to browsing habits and data that might be private too. Such information allows the program to display targeted advertisements. Sadly, it could be shared with untrustworthy third-party companies too. If you want to know more details about the adware, you should read the rest of the article. Also, should you decide to delete the application, there will be a removal guide at the end of the article.
If you have this adware installed or even launched it a couple of times, you should know that the application displays numerous commercial ads. Many adware programs such as BlastJob claim that the ads are shown to keep the software free of charge, but the fact is that these applications have no other functions. Probably, adware creators add such lines in the End User License Agreement so that the software would sound more like legitimate programs. However, if you read whole statements carefully, some of them should indicate that the application is rather suspicious.
For instance, BlastJob claims that the adware might collect your personal and non-personal data. Moreover, some of the Privacy Policy statements say that the software's developers "use reasonable technical efforts to prevent unauthorized access or disclosure." On the other hand, it is also stated that "your Information is shared with third parties whose privacy policies and practices are beyond our control." This means that all gathered information could be shared with companies that have a right to do anything they want with your data. Probably, most of these third-party companies would use your data to provide more targeted ads or for other marketing purposes, but there is no guarantee that they would not use this information in fraud attempts and other malicious activities. Users who realize how dangerous it is to reveal sensitive information to unreliable sources should delete the application with no hesitation.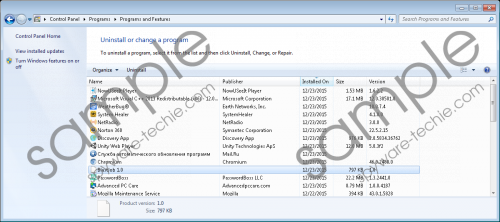 BlastJob screenshot
Scroll down for full removal instructions
According to our researchers, the application might travel bundled with other software, but users could also download it from the official site (blastJob.com). Those who got the installer from the adware's website may have accepted browser hijackers, potentially unwanted programs or different adware applications. There is such chance because the installer could have been bundled with such software. Another possibility would be that you noticed the adware only after you installed different freeware. In this case, the bundled installer must have had BlastJob in it. You should keep it in mind that bundled applications are usually visible in the setup wizard, and you can deselect them during the installation.
The adware displays irritating content that could lead you to potentially harmful sites that could also collect your sensitive information. If you do not want to have such unreliable program on your computer, you could eliminate it and for that, we can offer two solutions. The first one is the application's removal via Control Panel and for that we displayed a step by step instruction below. The second option is automatic deletion with a security tool of your choice. Once you install the antimalware tool, you should use scanning feature that would locate the adware and all related files. Afterward, you can erase BlastJob together with other possible detections.
Erase BlastJob through Control Panel
Windows 8 & Windows 10
Launch the RUN (Win+R).
Type Control Panel and press Enter.
Choose Uninstall a program.
Select the adware and press Uninstall.
Windows Vista & Windows 7
Open the Start menu.
Click on Control Panel.
Select Uninstall a program.
Mark BlastJob and click Uninstall.
Windows XP
Go to Start.
Open Control Panel.
Select Add or Remove Programs.
Find the application, mark it and select Uninstall.
In non-techie terms:
BlastJob provides a misleading description on the official website, and some users might have installed the application without realizing that it could be adware. Also, the software is spread through bundled installers and because of that some users could install the program unknowingly too. If you are familiar with one these two situations, you should not waste your time with the adware and eliminate it before anything bad happens. To help you with the deletion, we added removal instructions a little above this text, so if you want to get rid of the adware, feel free to use the provided removal guide.