Do you know what Blasearch.com is?
Blasearch.com is a regular browser hijacker that will change the default homepage on your main browser. It should not be much of a trouble to edit the unsolicited modifications, but there might be more unwanted programs on your computer. Therefore, when you remove Blasearch.com for good, you should also look for other undesirable applications. The best way to do that is to scan your computer with the SpyHunter free scanner. If more unwanted applications are found, it is possible to get rid of them with the security application of your choice. Please do everything you can to protect your PC from harm.
Our research shows that Blasearch.com mostly affects the Chrome and Firefox browsers, but it might also be installed on Internet Explorer, too. It is very likely that users install this program without even realizing the potential threat behind it. In fact, you probably did not even know you triggered the installation when it happened. This situation relates to the distribution method that is applied by browser hijackers and other potentially harmful pieces of software. You see, most of the time, these programs do not have official sources. Instead, they travel in software packages.
A software package is a type of third-party installer that bundles several applications together. These installers can be often found at file-sharing sites that host third-party data. For instance, when you look for some program to download, you can choose between getting it from its official website and a third-party source. Sometimes, an official site does not even exist, so users automatically resort to downloading a specific program from file-sharing pages. Of course, that is not illegal, but these third-party sources cannot guarantee that the installer you download is 100% safe. As a result, Blasearch.com and other unwanted applications could enter your system without much difficulty.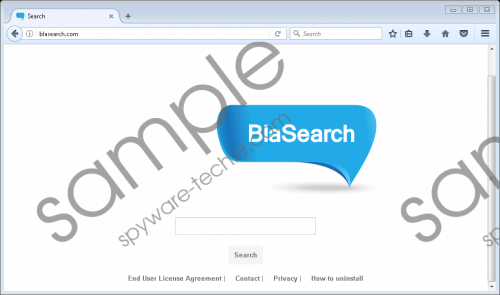 Blasearch.com screenshot
Scroll down for full removal instructions
The most important thing is to understand that Blasearch.com is not your friend, so to speak. Of course, this domain may look like a reliable search provider, but the program does not have an original search engine. Instead, this browser hijacker will employ reputable search providers like Google or Yahoo! Search to make it look as though it is part of the establishment. Of course, that is all just an act, and the search results delivered to you via Blasearch.com will be modified according to your most recent search history. That is right: the browser hijacker collects information on your web browsing habits to find out your likes and preferences.
After all, the reason this program enters your computer is money. That is basically what all computer security threats are about: They try to make as much money as possible. Of course, a browser hijacker will not steal your cash from your bank account. It is more like it will make you "work" for it, by forcing you to click sponsored links. The thing is that with each click you make, you help the people behind this application make a financial profit. And while you get nothing in return, the scheme itself is not illegal.
So why are security experts so wary of this browser hijacker and other similar applications? The problem is that Blasearch.com will not check whether the third-party content it promotes is safe or not. Basically, anyone can embed their content in the modified search links and the moment you click then, you are already beyond the browser hijacker's jurisdiction. So, cyber criminals could easily make use of this program for malware distribution. Although this is probably the worst-case scenario, you should not rule it out. Keeping all the potential risks in mind, you should remove Blasearch.com as soon as possible.
We have compiled the manual removal instructions for Chrome, Firefox, and Internet Explorer. Of course, these instructions deal only with the Blasearch.com hijacker. As far as other potential threats are concerned, you will have to remove them all either following other instructions or automatically with a security tool.
When you are done with that, please remember that your behavior online is also just as important in protecting your system and your information from undesirable exploitation. Refrain from downloading programs from unfamiliar sites, and be sure to read all the steps in installation wizard to weed out the unnecessary and potential harmful applications.
How to Remove Blasearch.com
Internet Explorer
Press Win+R and type regedit. Click OK.
Go to HKEY_CURRENT_USER\Software\Microsoft\Internet Explorer\Main.
On the right, right-click the Start Page value.
Select Modify and change your homepage address. Click OK.
Firefox
Press Win+R and type %AppData%. Click OK.
Go to Mozilla\Firefox\Profiles\[User ID].
Find and open the prefs.js file with Notepad.
Delete this string: user_pref("browser.startup.homepage", "http://Blasearch.com");
Save changes and close the file.
Chrome
Press Win+R and the Run prompt will open.
Type %LocalAppData% into the Open box. Click OK.
Go to Google\Chrome\User Data\Default.
Delete the Preferences, Secure Preferences, and Web Data files.
In non-techie terms:
Blasearch.com may not look like a computer security threat, but it can be used by cyber criminals to promote malicious content. Please be sure to remove this browser hijacker from your computer, as there is a possibility that you will experience severe computer security issues if you allow this program to remain on your PC. If you need help with the removal, please feel free to contact us by leaving a comment below.