Do you know what Blackmist Ransomware is?
Blackmist Ransomware can appear on your computer "out of nowhere" and encrypt your personal files beyond the possibility of repair. Unfortunately, our researchers have not yet found a free tool on the web that could help you recover your files from encryption. This means that you only have two options here. First, you can use your backed up files as clean copies and transfer back to your PC once this dangerous program is out of the way. Second, you decide to pay the ransom fee and see what happens. The latter option is not one that we would ever encourage as it is not only very risky, you would also support these criminals to keep doing their dirty business. It is also possible that the information this ransomware can collect about you and your system can be used to attack you again if you seem like a possible money source. We highly recommend that you remove Blackmist Ransomware from your PC as soon as possible.
It is possible that you have opened a spam mail recently and saved its attachment to view its content. This ransomware may show up in your inbox or spam folder, and pretend to be very important for you to read ASAP. You should not take any mail for granted just because you have a spam filter. Unfortunately, such a spam mail can look totally legitimate even for you, let alone your spam filter algorithm. We believe that it is important to be able to filter our mails ourselves and to be able to spot a questionable one that may need a little double-checking. For example, you can always try to contact the sender of a questionable mail to see whether they are real people in the first place. It is important for you to see that viewing suspicious attachments can end very badly for you. When you finally can delete Blackmist Ransomware from your computer, your files will be damaged already. This obviously means that the simple removal process will not recover those.
It is also possible that your browsers and Java or Flash drivers are not up-to-date, and when you accidentally end up on a malicious webpage after clicking on an unsafe ad or link, Exploit Kits can be triggered to drop this dangerous infection. In this case, you do not even need to engage with any content on such a page as it is enough to load it in your browser. You may also download free software from shady torrent or shareware pages and thus infect your computer with a bundle of threats containing this ransomware, too. As you can see, you need to be very careful whenever online if your computer is not properly protected by security software. Please note that removing Blackmist Ransomware cannot give you your files back.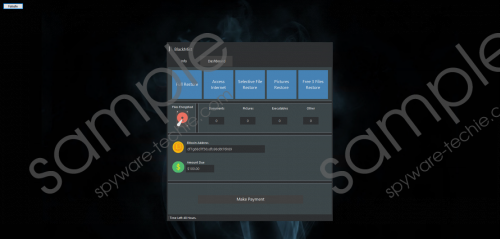 Blackmist Ransomware screenshot
Scroll down for full removal instructions
Our researchers have found that this malware infection applies the well-known AES encryption algorithm, which is actually the part of your Windows operating system and therefore a very fast choice, too. It means that the whole process can be over in about 20 seconds or so. This does not give you enough time to react to this malicious attack. This ransomware also makes it very difficult for you to act at all as it blocks your basic system processes like Task Manager, explorer.exe, and Chrome. This infection appends a ".blackmist" extension to your files, which would make it easier for you to see how severe the damage is if you could open your File Explorer.
The ransom note this time comes up on your screen as an application window, which explains about this attack and how you can get your files back. Basically, you have to pay 100 USD in Bitcoins to the given Bitcoin address. In this case, you are also offered other, cheaper choices, such as "Access Internet" and "Picture Restore" for which you have to pay $30 and $40 respectively. Of course, we do not recommend that you pay at all since there is a good chance that these criminals will not decrypt your files as promised. It is more likely that they will attack you with another dangerous threat since this ransomware can also gather important information from your PC and you yourself. We advise you to act now and remove Blackmist Ransomware from your PC ASAP.
Before you could do anything to eliminate this severe threat, you need to crash this malicious program by pressing the "Failsafe" button in the top-left corner of your screen. Since this ransomware is not finished yet, you may get out this easily even if it threatens you that closing this application or restarting your computer would result in your losing all your files. Once your File Explorer is up and running, you can take care of all the suspicious files you may have saved lately. It is possible that this malware infection deletes its executable from the "%Temp%" directory, but we advise you to check anyway because leaving any leftovers could still cause system security issues for you. Please follow our instructions below if you want to try to eliminate this threat manually. But, if you want proper defense for your computer against future malicious attacks, you should install a trustworthy malware removal application, such as SpyHunter.
Remove Blackmist Ransomware from Windows
Press "Failsafe" on your ransom note screen to open your File Explorer.
If the File Explorer does not open after the ransomware crashes, tap Win+E simultaneously.
Delete suspicious files in the following default download locations:
%USERPROFILE%\Desktop
%USERPROFILE%\Downloads
Delete "%TEMP%\modual.exe" if you can still find it.
Empty your Recycle Bin.
Tap Win+Q and enter regedit. Hit Enter.
Delete the following registry entries if you find them:
HKLM\Software\Microsoft\Windows NT\CurrentVersion\Windows|Load|%TEMP%\modual.exe
HKCU\Software\Microsoft\Windows NT\CurrentVersion\Windows|Load|%TEMP%\modual.exe
Close your editor and reboot your system.
In non-techie terms:
Blackmist Ransomware is the name of your new nightmare because this vicious program can show up on your system without your permission and knowledge, and create the worst possible destruction as it encrypts your most important files. Our researchers say that this malware threat may not even be finished yet because clicking its "Failsafe" button crashes this ransomware. Still, the damage is already done when you can actually kill this malicious process and remove Blackmist Ransomware from your computer. These criminals offer you to get your files back for $100 and also offer you other options like getting your Internet back only, and so on. We do not advise you to pay any money to these crooks though since there is no guarantee that they will keep their word. Any contact with such cyber crooks is very risky. Your only choice to restore your files is to have a backup somewhere safe that you can use now to transfer back onto your hard disk. If you would like to protect your PC effectively, we advise you to install a reliable anti-malware program as soon as possible.