Do you know what Blackheart Ransomware is?
Blackheart Ransomware is a dangerous computer infection that can cripple the system by encrypting most of the files. Although it is very likely that the program will leave the system files intact, it is not much of a consolation for users who may lose most of their data.
Perhaps the most gutting thing about ransomware infection is the fact that most of the time it is not possible to restore the encrypted files unless a public decryption tool is available. This something you have to keep in mind when you get ready to remove Blackheart Ransomware.
To protect yourself from this ransomware infection, you have to be more careful about the emails you open every single day. Although there are many ways for a ransomware program to enter your system, Blackheart Ransomware probably slithered in through a spam email attachment. It means that you willingly downloaded and opened the file that infected your computer with this program. It also means that users need to learn how to differentiate between regular files and malware installer files. It is not that hard. For the most part, users get infected with Blackheart Ransomware and other similar programs when they are not attentive.
Therefore, when you are about to open an email attachment, you should think once more whether it is really the file you were to supposed to receive. Perhaps the attachment looks like an invoice from an online store, or maybe it says that it carries an important financial report. However, if you do not remember anything about such reports, it would be better to scan the file before opening it. You can use a licensed antispyware tool to scan the file. If the file in question is a ransomware installer, the security tool of your choice will let you know about it.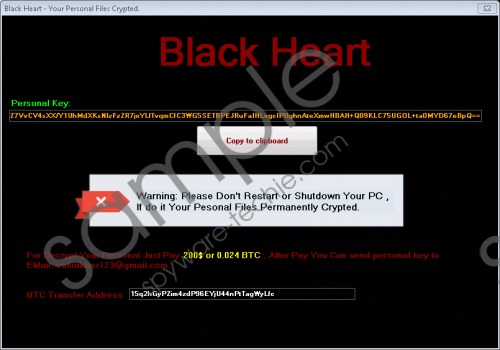 Blackheart Ransomware screenshot
Scroll down for full removal instructions
Nevertheless, if this program enters your computer, then you can prepare yourself for the worst. Upon the installation, Blackheart Ransomware will scan your computer looking for the files it can encrypt. According to our research, this program encrypts most of the file formats, so it is very likely that your data will be locked once the encryption is complete. Every single file that was affected by the encryption will have a new extension added. For example, a picture.jpeg filename would look like picture.jpeg.pay2me after the encryption. You will notice which files were encrypted immediately because you will no longer be able to open them.
When Blackheart Ransomware is launched, you will see a black window on your screen with the ransom payment instructions. The black window will have "Black Heart" plastered all over it. Aside from the notification window, this program also drops an additional instruction file under the ReadME-BLackHeart.txt filename. If you open the filename, you can find another ransom note there that says the following:
All your data has been locked us. You want to return?
Contact to: vahidkhaz123@gmail.com
Your Personal KEY: [personal id]
The notification window has a little bit more information to offer. It says that you need to pay $200 in Bitcoin to get a decryption key that will decrypt your files. Will the infection really issue the decryption key? That is highly doubtful. It is very common for ransomware programs to collect payments and then scram. What's more, the server connection between the infection and its control and command center might be very unstable, and the server might go offline before you even contact these criminals. Thus, you have to focus on removing Blackheart Ransomware from your system, and then look for other ways to restore your data.
While it is not hard to delete Blackheart Ransomware, it might be a bit challenging to get your files back. That is to say, if you do not have an external backup drive, or you do not have copies of your files saved someplace else, it might be impossible to restore most of your data. As mentioned, when we deal with ransomware programs, we have to understand that sometimes it is not possible to treat every single issue associated with these infections.
Nevertheless, you should not panic because you can still protect your computer from similar infections in the future. Please remain attentive when you encounter emails with attachments, and do not forget to invest in a legitimate antispyware tool.
How to Remove Blackheart Ransomware
Press Ctrl+Shift+Esc and the Task Manager will open.
Click the Processes tab.
Highlight a task with a word "blackheart" in it.
Click End Task to kill the task.
Close Task Manager and go to your Downloads folder.
Remove the most recently downloaded files.
In non-techie terms:
Blackheart Ransomware is a malicious computer infection that tries to steal your money. It encrypts your files, and you can no longer open them. The program expects you to pay money to retrieve your files. However, paying should not be on the list of your solution options because it does not solve anything. Please remove Blackheart Ransomware immediately, and then contact a professional technician (or leave us a comment) to find out more about file recovery options.