Do you know what BlackFeather Ransomware is?
Do not hesitate and conduct a complete removal of a program entailed BlackFeather Ransomware as soon as possible if it is ever found running on your personal computer. This is paramount since the malware in question is infamous for acting in an invasive and malicious way: it can fully encrypt your personal data, which could even turn out to be unrecoverable. On top of such intrusive functionality, the malware in question could prove to be the main reason your PC is infected with other devious and even potentially harmful programs. Such dangerous functionality of this malicious program should not be tolerated under any circumstances. To learn more about the inner workings of this ransomware, make sure to read our article. Also, we present detailed instructions that will help you remove BlackFeather Ransomware in the easiest way possible.
The overall functionality of BlackFeather Ransomware is quite familiar to the research team of Spyware-Techie.com since it exhibits most of the features that a lot of other ransomware applications would. Once this malware gains successful access to your personal computer it will instantly trigger an encryption procedure which is completely secret; unfortunately, users with no advanced computer knowledge will likely not notice that they have this malicious program at first. The primary indication that this malicious piece of software is already active on your personal computer is an appearance of a text file on your desktop which is entitled BLACK_FEATHER.txt. In this files, your are presented with the information telling your that all of your personal files have been encrypted, and you no longer have any access to it. All files that are affected by this malware will receive a .blackfeather extension. The unfortunate thing is that a manual decryption procedure is a virtually impossible task due to the strong encryption algorithm used by the cyber crooks who developed this malware. Within the ransom note, you are asked to pay 0.3 Bitcoin which is approximately 200$. It is important to note that this decryption procedure offered by malware creators is likely a hoax as there are no legal guarantees that it will be carried out. We advise you not to take any risk since by paying for this hoax service you could end up losing money as well as personal data. Do not hesitate and remove BlackFeather Ransomware from your personal computer by following the detailed instructions that we present below.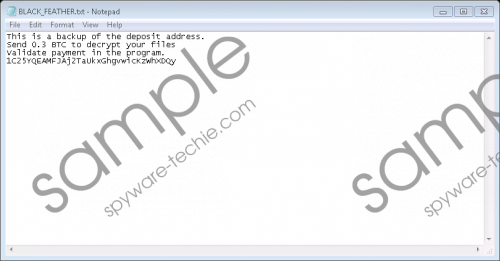 BlackFeather Ransomware screenshot
Scroll down for full removal instructions
If you already have BlackFeather Ransomware active on your personal computer make sure to check your operating system for other potentially dangerous and malicious program. It is critical to carry out such analysis since other potentially malicious programs could have come along with this ransomware. This is so because often suspicious software is distributed via questionable third-party websites. Some sites created by malware developers could turn out to be running an arbitrary code execution exploit and just entering such a web page could be enough to get your PC infected with all sorts of invasive and harmful applications. You can avoid this by practicing safe browsing habits. By avoiding all suspicious third-party sites, you will dramatically reduce the chances of coming across suspicious software. Also, you should bypass all suspicious e-mail attachments from unknown senders since this is another popular way that devious programs are spread. Lastly, but most importantly every security-conscious user should have a professional antimalware tool active on their PC at all times. This is crucial since it can detect and terminate any virtual threat automatically.
It is paramount to delete BlackFeather Ransomware in its entirety. Make sure to run a detailed analysis of your PC for potential leftovers associated with this malicious program right after you are done with the manual removal. This is extremely important because traces of it could be used in devious ways. For instance, BlackFeather Ransomware could be restored silently by using just a few leftover files. In other situations, leftovers could prove to enough for this malware to continue its malicious functionality. Thus, after checking your PC carefully for leftovers associated with this malicious piece of software, you will be sure that it was removed completely.
How to remove BlackFeather Ransomware from your PC
Select the BLACK_FEATHER.txt file and remove it for your desktop.
Open your File Explorer.
Go to C:\Users\<your username>\Downloads.
Locate and then delete a malicious .exe file of this ransomware. Note that the name of this files is random.
In non-techie terms:
Since the name of the executable file is random, it is not surprising that some users might find manual removal a bit too challenging as they need to identify the file on their own. If you happen to be one of those users, do not worry and follow the instructions that we present below. This alternative removal guide will allow you to terminate BlackFeather Ransomware in an automatic manner.