Do you know what Bizzybolt is?
Bizzybolt is a browser add-on which is aimed at improving your browsing experience. It generates various coupons, special deals, and other pop-up content in order to help you save money while browsing the Internet. Bizzbolt is available on its official websites but you may also find it attached to some other free programs, such as browser add-on or browser toolbars. The application works on Internet Explorer, Google Chrome, and Mozzilla Firefox, and if you do not remove if it from the PC, it accompanies you basically on every website. Due to the advertisements and coupons which have been found to be rather obtrusive, Bizzybolt is categorized as adware and some computer users want to remove it from the PC.
Bizzybolt can easily provide you not only with coupons and pop-up ads but also some web banner, in-line ads and interstitial advertisements. All of them are provided by different advertising services, which are not monitored by Bizzybolt. The service in question does not take responsibility for your interaction with third-party websites, sweepstake, questionnaires, and the like because every website to which you are taken through Bizzybolt is likely to have its privacy policy. If you do not like the website or simply do not trust it, do not expose your personal information to it. Make orders or download computer applications only when you are sure that your privacy and system security will not be violated.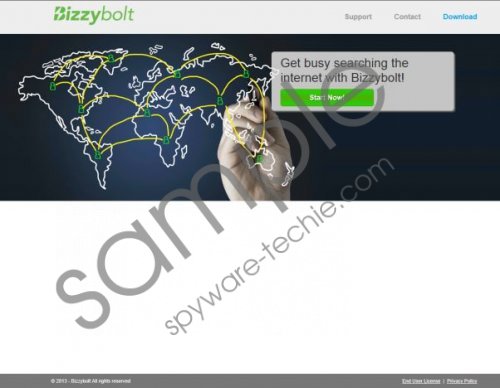 Bizzybolt screenshot
Scroll down for full removal instructions
Even though the advertisements generated by Bizzybolt are likely to have no relation to your search terms, it does not mean that you are not being monitored. The application, as well as the third-party websites, collects anonymous information about you. It records your search terms, IP address, browsing history, and other details that help to determine your preferences so that new advertisements can be created. The application may send cookies to your browsers, not to mention other websites that may use their tracking devices such as cookies and web beacons. If you do not want to be monitored when browsing online shopping websites and other websites, remove Bizzybolt from the browsers. By doing so, you will prevent annoying coupons and pop-up advertisements, so if you care about your privacy, take action right now.
Below you will find our step-by-step removal guide which can help you uninstall the program, but how can you be sure that it will help you get rid of all the components of the application? Some unwanted files may remain within the system, and in order to have all of them removed, you should implement a powerful spyware removal tool.
We recommend that you use SpyHunter because this application can eliminate the adware program and delete other malicious files that may be present on the PC. The recommended application will safeguard the system against other threats and save your time by running automatic system scans.
How to remove Bizzybolt
Windows Vista and Windows 7
Open the Start menu and click Control Panel.
Click Uninstall a program.
Remove Bizzybolt.
Windows XP
Open the Start menu and click Control Panel.
Select Add or Remove Programs.
Uninstall the unwanted application.
Windows 8
Move the mouse to the lower-left corner of the screen.
Right-click on the pop-up window and click Control Panel.
Select Uninstall a program.
Remove the unwanted application.
In non-techie terms:
Since some components of the application may be left within the system, you should scan it with a reliable scanner. Click the button below to download one and invest in the program if necessary.
Aliases: Bizzy bolt.