Do you know what Bingoweb.ga is?
Bingoweb.ga might enter your system uninvited and mess up your browser settings. Our researchers categorized it as a browser hijacker because it modifies your preferences without asking. At first, it might look like a very functional search engine, but the constant ads and annoying pop-ups disturb your browsing. Unfortunately, this does not make an impression of reliable software, and if you find it irritating, you should delete it from your computer. Although you cannot erase it via Control Panel, still you can remove it manually from your browsers, and to make things easier for you, we prepared step by step instructions available below the article.
We have no doubt that you are familiar with Globasearch.com because it might have hijacked your browsers in the first place. Mainly, this application is installed without your permission, and it can affect Internet Explorer, Mozilla Firefox, and Google Chrome. Afterward, it redirects you to other search engines, such as safe-web.tk, search-eyes.tk, etc., including Bingoweb.ga. In fact, all of these search tools are very alike because they have the same appearance and functions. Another typical feature is the annoying third-party ads and pop-ups.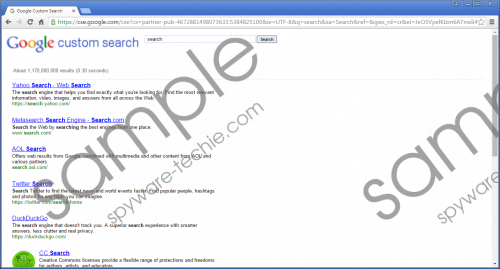 Bingoweb.ga screenshot
Scroll down for full removal instructions
It is an add fact that Bingoweb.ga does not have its End User License Agreement, as that is one of the main documents to any application. Although it does have a Privacy Policy, which clearly states that the website uses "<…> third-party advertising companies to serve the ads when you visit our website to support it." However, interacting with third-party content is always risky, because it might be not only annoying but also potentially dangerous. For starters, the third-party websites might invade your privacy as they might have a different policy on privacy issues. Such data could be collected when you click on one of the ads and get redirected to a third-party website that is using different HTML cookies or other technology.
The ads and pop-ups shown by Bingoweb.ga could display fake messages about you winning a lottery in which you never participated, suggest you a simple way to earn money while sitting at home, and other kinds of disturbing content. Also, our researchers noticed that there might be suspicious download buttons on the website and no information about what they are for. As you click on these buttons, a new tab page should be opened with a setup wizard that could suggest installing some extension for downloading music, movies, etc. The extensions cannot be installed without your permission as you can either accept the terms of use or decline. It would be smart to read the terms carefully because these extensions might be harmful to your computer. Still, the safest option here is to avoid clicking on any ads and download buttons that are displayed by Bingoweb.ga, since they come from unknown and unreliable sources.
All things considered, this search engine does not look trustworthy enough to use it or keep it on your computer. If you feel the same way about the website, you should erase it from your system. We believe that it should not be too difficult even for inexperienced users since you can use our detailed removal instructions located below the text. Although erasing this hijacker might take some time, so if you do not have the patience for this task you could choose the automatic removal option and delete it with a reliable antimalware tool. Also, you could do a full system scan and clean your computer from other threats that might have slipped in too.
Remove Bingoweb.ga from browsers
Internet Explorer
Open the browser and click on Tools available on the top-left corner.
Choose Internet Options and open the Advanced tab.
Click Reset, select Delete personal settings option and click Reset again.
Press Close.
Mozilla Firefox
Launch the browser and press Help option on the top-left corner.
Select Troubleshooting information, wait till new tab opens.
Click Refresh Firefox on the right side.
Press Refresh Firefox again and select Finish.
Google Chrome
Open browser, find settings icon on the top-right corner and click on it.
Select Settings, slide down and choose Show advanced settings.
Scroll down and click Reset Settings button.
Press Reset.
In non-techie terms:
Bingoweb.ga hijacks your browsers by changing your preferences, such as homepage or search engine. In addition, it displays annoying ads and pop-ups that come from unreliable third-party. We see no reason to leave this suspicious application in your system, especially if you did not install it yourself. Therefore, if you want to go back to your previous browser settings you should get rid of the hijacker first. You could either use the provided removal instructions here or give this task to a legitimate security tool.