Do you know what BillBreak is?
BillBreak is one more program that should help frequent online shoppers save money. The application in question should present you with a variety of discount deals, promotional codes, and great coupons. It surely seems like a tool worthy of running on your computer. Unfortunately, such claims that you are most likely to come across on its official website are false, to put it mildly. In fact, our research team has classified this program as yet another adware due to its invasive features. In reality, this program is utterly worthless and should be avoided at all times. In the majority of cases, it will only cause major disruptions while you are surfing the web. In addition to such annoying activity, this adware program could be the reason other intrusive programs could enter your computer without much trouble. If you happen to already have this intrusive application running on your computer, we firmly advise you to delete it as it is the only way to restore the standard functionality of your web browser. Read the rest of this report and find out why exactly BillBreak must be terminated without second thoughts.
BillBreak at the moment is compatible with Internet Explorer and Mozilla Firefox. While using Google Chrome as your primary web browser might seem safe, you must be informed that developers of this invasive tool could launch a newer version of this adware that could turn out to be compatible with the mentioned web browser; thus, even if you use Google Chrome, you should still be aware of this ad-supported program. Once it gains full access to your operating system, it will start a background system service without any authorization. Keep in mind that the name of this invasive system process could turn out to totally random; therefore, you might encounter some troubles while trying to identify it via a Task Manager. The primary goal of this silent system service is to establish lasting connections to numerous adware servers, which will be the primary source of the unwanted web content. Usually such content manifests as various ads, coupons, and pop-ups. Keep in mind that all the content that this adware presents you with is utterly worthless and should not be trusted under any circumstances. We advise you to do some because we have found out that some ads and pop-ups presented by BillBreak could turn out to be embedded with redirect links. Clicking on such an ad is a situation that you do not want to find yourself in as you could be taken to questionable or even malicious sites. Just a single click on a seemingly harmless ad could lead you to a website that might be hosting malicious content. Even though such situation does not occur often, it remains a risk that you should not take. Make sure to delete it in order to regain the normal functionality of your web browser.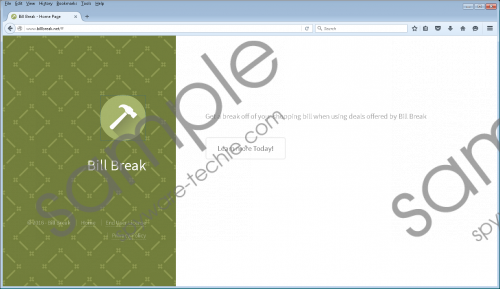 BillBreak screenshot
Scroll down for full removal instructions
It is critical to note that BillBreak is mostly spread in dubious ways. The primary way of its distribution is via software bundles. This is not at all surprising due to the fact that the official website of this adware program does not host a direct download link. In most cases installers bundled with this ad-supported application are obtained from suspicious third-party download websites. You can significantly reduce the risk of infecting your computer in such a way by simply downloading your software from official vendors' websites only. Another great way to avoid suspicious programs is by paying your full attention to every setup procedure. At times you might be presented with an opportunity to cancel the installations of some questionable program; thus, make sure to never skip an installation step. To make your operating system virtually unbreakable, you should have a professional antimalware tool active on your computer at all times. Such a tool can identify any potentially dubious websites or downloads beforehand.
The complete removal of BillBreak is a must. It is important to terminate this adware program as a whole in order to stop its invasive and potentially malicious functionality. Follow the detailed removal guide carefully and once you are done with it, make sure to double-check your operating system for any potential leftovers associated with BillBreak. This way you will be sure that every single bit of this invasive ad-supported application has been removed from your computer once and for all.
How to delete BillBreak from your computer
Click the Windows button.
Type regedit into the search field and tap Enter.
Go to HKEY_LOCAL_MACHINE\SOFTWARE\Wow6432Node.
Select the registry key called billbreak and delete it.
Go to HKEY_LOCAL_MACHINE\SOFTWARE.
Delete the registry key named billbreak.
Go to HKEY_LOCAL_MACHINE\SOFTWARE\Wow6432Node\Microsoft\Windows\CurrentVersion\Uninstall.
Remove the registry key entitled billbreak.
Now go to HKEY_LOCAL_MACHINE\SYSTEM\ControlSet001\services.
Locate registry keys called Service Mgr billbreak and Update Mgr billbreak and then delete.
Go to HKEY_LOCAL_MACHINE\SYSTEM\CurrentControlSet.
Find and remove registry entries called Service Mgr billbreak and Update Mgr billbreak.
Now open the File Explorer.
Go to C:\Program Files.
Remove the folder that is named bill break.
Now go to C:\Users\User\AppData\Local\Temp.
Find and delete the folder called bill break.
Now you need to go to C:\Users\User\AppData\Roaming\Mozilla\Extensions.
Select a file with a name firefox@www. billbreak.net.xpi and delete it.
In non-techie terms:
If you find the whole manual procedure too complicated, do not worry. Malware experts at Spyware-Techie.com have crafted an alternative removal method that will help you terminate this adware without encountering any major problems. It is imperative to delete BillBreak from your computer to keep your operating system safe and secure at all times.