Do you know what Bilisearch.com is?
If you notice Bilisearch.com in your browsers, you should not hesitate to act; this search engine means a threat source for you and your operating system. Our researchers have found that this tool can show up in your browsers without your permission; therefore, it has been labeled a browser hijacker. Its emergence raises a few virtual security-related questions. Most probably this hijacker infiltrates your computer in a free software bundle. Many inexperienced users do not pay too much attention to a hijacker that appears suddenly in their browsers as the new homepage. And they are wrong to do so. It clearly shows that people are not aware of the risks they take by letting, for example, this hijacker active in their browsers. We definitely advise you to remove Bilisearch.com as soon as possible because you are jeopardizing the health of your operating system if you do not do so.
According to our researchers, you should never try to use this search engine for a web search or even stay on its main page as it may expose you to potentially unreliable and, therefore, harmful third-party content. This hijacker displays third-party banner advertisements on its main page. You need to be careful with those and not to believe whatever you see there because these can be misleading in order to catch your eyes and make you click on them. But one single click is enough to be redirected to a malicious website where you might be introduced to more dangerous third-party ads, get infected with more malware, or get scammed in other ways. Any of these scenarios would be detrimental to your operating system and would create several security issues. The same might happen if you click on any link or ad on the search results page because this hijacker can modify them and include potentially unreliable ones, even if it looks like a simple redirection to a Google.com page. That is why we suggest that you should delete Bilisearch.com from your browsers before it is too late.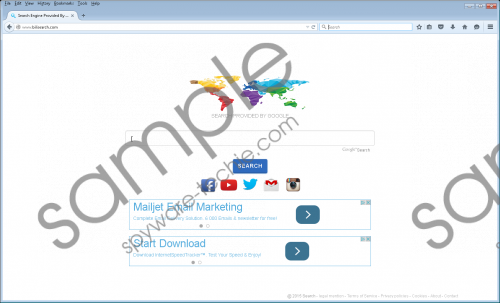 Bilisearch.com screenshot
Scroll down for full removal instructions
Most probably you will not find any promotional website for this browser hijacker where you could download it as a standalone installer. Instead, it seems to be spread via free software packages. Obviously, the packages in which you can find this browser hijacker are not legitimate bundles that you can download from reputable freeware websites. Unfortunately, these bundles are packed with several malware infections and can be found on suspicious shareware sites and websites related to online piracy. That is why we advise you to avoid such sites if you do not want to end up with a bunch of infections. You need to keep away from unfamiliar P2P sites because they may be full of deceiving third-party advertising. If you click on an unreliable ad, you can easily infect your machine. If that has happened to you, there is one thing you can do to save your computer: You need to delete Bilisearch.com and scan your system to find the other threats. Once you identified all the infections, you will most likely need a decent antimalware application to eliminate them and to protect your PC.
This browser hijacker has no working uninstaller; therefore, you cannot simply erase it through Control Panel. It is still not too complicated to make it disappear but you have to do it manually in all the major browsers as it affects them all. What you have to do is restore the homepage URL settings or overwrite them in your browser settings. If you need assistance with that, please use our guide below. Remember that with a few basic rules of safe web surfing you can help protect your PC. But if you need professional protection, you should start looking for a reliable malware remover.
Bilisearch.com Removal from Browsers
Internet Explorer
Press Alt+T and access Internet options.
On the General tab press Use default or overwrite the homepage URL.
Click OK.
Google Chrome
Press Alt+F and open Settings.
Click Open a specific page or set of pages under On Startup.
Click Set pages.
Add a new homepage URL.
Click OK.
Mozilla Firefox
Press Alt+T and go to Options.
Choose General settings.
Click Restore to Default or overwrite the homepage URL.
In non-techie terms:
Bilisearch.com is an unreliable search engine that may appear in your browsers without your consent. Therefore, it has been labeled a browser hijacker. Its presence indicates a privacy breach, which is more serious than most people would think. You cannot trust this search engine because it displays potentially unreliable third-party ads and it may also modify its search results to promote certain websites. We advise you to remove Bilisearch.com before you infect your system with more threats. It is best to use a professional antimalware program if you want to protect your PC from similar attacks.