Do you know what Big-Bonus is?
If you have big expectations for Big-Bonus, it should not take long for you to realize that this program is completely worthless. Unfortunately, besides being useless, it is also dangerous, and you must remove it from your operating system as soon as possible. If you are not sure why you need to eliminate this suspicious ad-supported program (adware), you need to read this report. If you continue reading, you will learn how to delete Big-Bonus and protect your operating system from similar infections in the future. If you ignore this threat, you might become a victim of virtual scams much quicker than you can imagine.
You cannot download Big-Bonus from bigbonus.net. This website should represent the ad-supported program, but all it is useful for is the links to Privacy Policy and EULA documents. It is imperative that you analyze these documents before installing software, but, of course, most users skip this step. Would you install a program that had the ability to disclose information about you to unknown parties? You probably would not, but this is the kind of activity that is associated with Big-Bonus, and one of the reasons why we recommend removing this program. Did you know what this adware has many clones that also require removal? DelightfulDeals, AdPunisher, and NiceAndFun are just a few of the many programs that must be deleted due to the same reasons.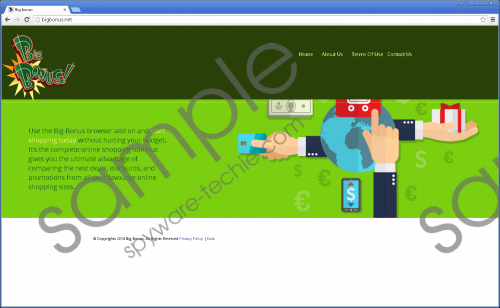 Big-Bonus screenshot
Scroll down for full removal instructions
Big-Bonus and its clones were developed with the help of an infamous framework, Justplugit. It is likely that many different parties can use this framework to create ad-supported programs, but all of these programs are identical. It was found that they are usually spread by the same third-party installers, including Installrex, Amonetize, and Vittalia. Unfortunately, these installers can also spread potentially unwanted programs, adware, and browser hijackers (e.g., Websearch.hotfindings.info) that require removal. Do you know if you need to remove Big-Bonus-related malware? Since some of the threats that you need to delete might be silent, we suggest identifying them with the help of a malware scanner.
Did you know that Big-Bonus might be represented using different names? Although it is unlikely that these names will be much different, this might create problems when deleting this adware. It is most likely that once you recognize this threat, you will attempt to uninstall it. Unfortunately, if you use Chrome/Firefox browsers, you will have to remove browser extensions as well. What is more, some files might remain active, and deleting them manually might be tough. We recommend using an automated remover to delete Big-Bonus and other threats that are active on your operating system.
Delete Big-Bonus
Delete from Windows XP
Click Start on the Taskbar and select Control Panel.
Double-click Add or Remove Programs and Remove Big-Bonus.
Delete from Windows Vista or Windows 7
Click the Windows icon on the Taskbar and open Control Panel.
Go to Uninstall a program and Uninstall the app you want to remove.
Delete from Windows 8 or Windows 8.1
Click the Search icon on the Charm bar and enter Uninstall a program.
Right-click the program you want to remove and choose Uninstall.
Delete from Windows 10
Enter Change or remove a program into the search box (on Taskbar).
Identify the unwanted program, right-click it, and select Uninstall.
Delete from Mozilla Firefox
Open the browser and tap Ctrl+Shift+A (opens the Add-ons Manager).
Move to the Extensions menu and Remove the unwanted add-on.
Delete from Google Chrome
Open the browser and tap Alt+F.
Select More tools and click Extensions to find all active add-ons.
Remove the unwanted add-on by clicking the trash bin icon.
In non-techie terms:
Big-Bonus might seem like a great shopping tool, but it cannot show useful and reliable discounts or shopping deals. This program was created to work as an advertising tool, and you need to remove it from your operating system as soon as possible. Since manual removal is time-consuming and complicated, we suggest looking at automatic removal. All you need to do is install a trustworthy antimalware program, and you will have all malicious programs, including Big-Bonus, removed in a matter of minutes.