Do you know what BestSaveForYou is?
BestSaveForYou is a typical advertising-supported application which will flood your screen with various advertisements instead of helping you to find the "latest news on the hottest deals". As this add-on is rather useless, we recommend deleting it from the system; however, if you choose keeping it on your PC, you should be prepared for different undesirable activities of BestSaveForYou. The most annoying one is, of course, the constant appearance of advertisements; however, keep in mind that BestSaveForYou is also capable of performing other suspicious activities, for example, collecting the information regarding your browsing habits. Unfortunately, you will not be able to stop all these activities by changing the browser, which is why we definitely recommend removing BestSaveForYou from the system.
It has been found out that BestSaveForYou can randomize its name; thus, you might find an extension with a similar name added to your Internet Explorer, Google Chrome, and Mozilla Firefox. If you have already detected such an extension, there is basically no doubts that your PC is infected by BestSaveForYou. If you have not downloaded it yourself, it is very probable that it has entered your system bundled with other application or you have downloaded it without planning by clicking on those ads offering you to update Java or Adobe Flash. Keep in mind that you should download software from reliable sources only, which means that you should never trust various ads that might appear to you on different websites.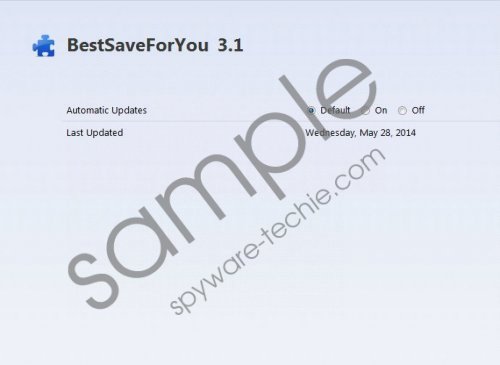 BestSaveForYou screenshot
Scroll down for full removal instructions
We are definitely concerned about the security of your system, which is why we recommend that you delete BestSaveForYou entirely. However, if you decide to keep BestSaveForYou on your system, you should know that you risk infecting your system. It has been found out that various advertisements that will appear on your screen might take you to unreliable websites if you click on them. You might think that the task is not difficult at all; however, you should still know that you might click on ads accidentally as they are going to appear without prior notice.
It is not advisable to keep any of JustPlug.it applications on the system because they will not do anything beneficial. If you also find BestSaveForYou useless, you should delete it whenever you want to. The easiest way to get rid of BestSaveForYou is to acquire a reliable security tool, for instance, SpyHunter and then just scan your system with it. However, more experienced computer users can delete this undesirable program manually as well.
How to remove BestSaveForYou
Windows XP
Click the Start button.
Select Control Panel.
Click Add or Remove Programs.
Select the undesirable software.
Click Remove.
Windows 7 and Vista
Click the Start button.
Select Control Panel.
Click Uninstall a program.
Right-click on BestSaveForYou and then click the Uninstall button.
Windows 8
Tap the Windows key + R simultaneously to launch RUN.
Type in control panel in the field and then click OK.
Select Uninstall a program.
Right-click on the adware.
Select the Remove button in order to complete the removal.
In non-techie terms:
It is extremely important to keep an antimalware tool enabled if you want to prevent such malware as rootkits, ransomware, trojans, and other infections from entering the system. There is already a slight possibility that your system contains undesirable software, which is why we recommend scanning the system with a free diagnostic scanner. The instructions provided for you below will help you to download this tool.