Do you know what BestArcadeHits is?
BestArcadeHits will not help you play Adventure, Arcade, Fighting, or other kinds of games promoted at bestarcadehits.com, but you will have to install it if you decide you want to play the so-called Premium games. If you visit the website, it is very likely that you will encounter advertisements. Some of them could be harmless, but it is impossible to predict if unreliable offers will not be injected as well. Unfortunately, even more ads could show up if you downloaded BestArcadeHits onto your PC. Of course, most users do not even consider this because they just want to play games. Continue reading our report and you will learn why you might want to delete BestArcadeHits from your PC. Even though you can go straight to the removal guide, it is wise to learn how this program works first.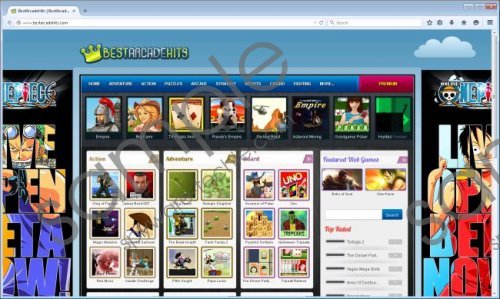 BestArcadeHits screenshot
Scroll down for full removal instructions
Our research team knows what kind of program BestArcadeHits is because this is not the first program of its kind that we have come across. ArcadeGiant, Arcadeparlor, ArcadeTwist, and few other programs were reported in the past, and they are removed by users for the same reasons we suggest removing BestArcadeHits. In fact, these programs are identical, and, even though their developers are not disclosed, there is no doubt that they all work in the same way. Once you install any of these programs, tracking cookies will be applied to record your activity. Unfortunately, if you do not delete BestArcadeHits cookies, the information collected could be shared with undisclosed partners. The parties whose ads could be injected are not disclosed either, which makes BestArcadeHits a very suspicious program. Even though it is unlikely that this PUP (potentially unwanted program) is very dangerous, you should delete it to avoid any surprises.
Even though experience plays a significant role if many malicious programs have attacked your PC, you can remove BestArcadeHits manually even if you are inexperienced. If this PUP is the only program that you need to delete from your operating system, you are in luck. Unfortunately, it is much more likely that you will need to delete BestArcadeHits together with other unreliable programs. So, what is your plan of attack? Do you have the time, energy, and skills to remove malicious programs with their files one at a time? If you are not, it is high time you installed authentic security software capable of deleting malware automatically. If you do not install this software, it is very likely that you will keep encountering security issues in the future.
Delete BestArcadeHits from Windows
Delete from Windows XP
Navigate to the Taskbar and click the Start button.
Open Control Panel for more options.
Double-click Add or Remove Programs.
Select and Remove the undesirable application
Delete from Windows Vista/Windows 7/Windows 8/Windows 8.1
Launch RUN (simultaneously tap Win+R).
Enter Control Panel and click OK to launch a menu.
Move to Uninstall a program and find BestArcadeHits.
Right-click the program you wish to remove and select Uninstall.
In non-techie terms:
Even though BestArcadeHits is just a potentially unwanted program, it can inject unpredictable ads, and that is the reason we recommend removing it from your operating system. Spyware-Techie.com research team has created a removal guide that will help you delete BestArcadeHits from the Windows operating system. If other unreliable programs were installed, the wisest thing to do is to install automated malware detection and removal software. Even if you can locate and remove all malicious files yourself, only reliable software can ensure that malicious programs cannot attack in the future. If they do, your operating system could be paralyzed in a more aggressive manner, and the instructions below might become your only way out.