Do you know what Best Price Ninja is?
Best Price Ninja is a really awkward name for an application. This program has nothing to do with ninjas, but it has everything to do with prices, because it is claimed that this application will help you save money while you shop online. However, we consider this application as adware and recommend that you remove as soon as the opportunity arises, because its ads are unasked-for, intrusive, and irritating. If you have installed this application on purpose then, by all means, keep it, but those of you who do not know what this application is or how it got or could get on your computer, you should read this article.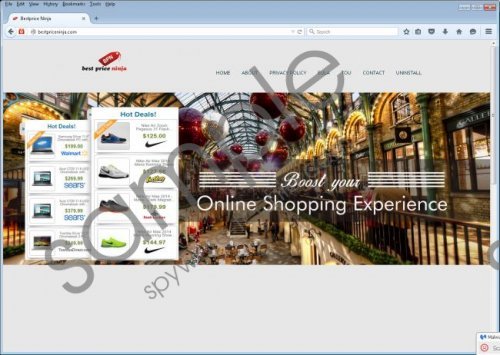 Best Price Ninja screenshot
Scroll down for full removal instructions
Best Price Ninja is promoted on the website Bestpriceninja.com. The website hosts a download of this application, but, at least currently, the download does not work. The website's design is very familiar to our researchers, because Best Price Ninja is a clone of adware released prior to this one. DealBarium and TopDealMaster are just a few more recent examples, but the application has a lot more clones. Previous programs were reportedly found bundled with freeware, so the same is likely to be true of Best Price Ninja. However, since we have not found a bundle sample that contains this program, we cannot be certain that it is distributed in this manner.
This application is all about online shopping, because more and more people tend to shop online and get their purchases delivered right at their doorstep as opposed to going directly to a retailer's outlet. It is claimed that a "unique and advanced algorithm will always find the most rewarding deals for you." this can be debated since, many adware applications collect data about the user to tailor specific ads, so Best Price Ninja has nothing innovative to offer whatsoever. It is claimed that this application will help you get live price comparisons while you are viewing products on an online shopping website. Let us analyze another statement from the program's website."occasionally you will be offered similar, related products to help make you shopping decision better." So this statement gives the program a free pass to display ads as long as they fall into a predetermined category. Shoes are shoes, and shirts are shirts. Regardless of the specific product you want to buy, the application can show you loosely-related products.
So Best Price Ninja is not that innovative and unique as its advertisement campaign wants you to believe. It is true, however, that the ads can be slightly customized based on personally and non-personally identifiable information that is collected via the application's website, and the app itself. Personally identifiable information is collected on a voluntary basis when you attempt to get in touch with the developers via the website. Non-personal information is collected automatically and includes "browser name, IP address, the type of computer User use and technical information about Users means of connection to the Software." this information is used "To provide User(s) with content the Company believes may interest such User(s), such as targeted advertising content or other commercial information." so there you have it. Basically that is the main purpose of this application. Do you still want to keep it? If not, then you will probably want to remove it.
As usual we have included a manual removal guide that will help you uninstall Best Price Ninja. If you want to avoid such as applications from accidentally getting onto your computer, you should get an antimalware scanner that can prevent the adware from installing and remove it if necessary. Remember that the ads are promoted by unreliable advertisers, so they should not be taken at face value.
How to Uninstall Best Price Ninja
Windows 8 & 8.1
Navigate the mouse to the lower left corner of the screen.
Right-click the Windows logo and click Programs and Features.
Find Best Price Ninja amongst other programs and click the Uninstall Button.
Windows Vista & 7
Navigate the mouse to the lower left corner of the screen.
Right-click on the Windows logo and go to the Control Panel.
Click Uninstall a program and find Best Price Ninja.
Click the Uninstall button.
Windows XP
Navigate the mouse to the lower left corner of the screen.
Right-click on the Windows logo and go to the Control Panel.
Select Add or Remove Programs and find Best Price Ninja.
Click the Remove button.
In non-techie terms:
Best Price Ninja is an adware program that will not provide you relevant deals that you would benefit from. Instead, it will show you intrusive advertisements that that will only hamper your browsing experience. The developers who made this application will collect information about you for marketing purposes. If you do not support such actions, you should remove Best Price Ninja in a timely manner.