Do you know what Beleela Shopper is?
Beleela Shopper claims that it "helps you save lots of money by searching for best prices as you browse for products on different sites." Also, it says that you get notified when a better offer is available. However, the application falls under the category of adware, so what this description means is that Beleela Shopper will display various pop-ups with commercial advertisements while you search the Internet. Although some of the ads are from legitimate online shops, the other ones might come from unreliable websites that you should not visit. If you have doubts about this adware, you should read the article and learn more about it. As for users who wish to delete the application, we have prepared a removal guide that is placed below the article.
On its website, Beleela Shopper's creators claim that the application displays offers of similar or popular products that users might be interested in. How do they know what your interests are? The answer is simple; the application gathers information about you while you surf the Internet. Mainly it records the websites you visit, ads you click, your search keywords, and other information that is related to your browsing habits. Beleela Shopper's originators keep such data in their servers and process it. Every user gets a profile that dictates what ads and offers should be displayed for you.
Moreover, the collected information might be used further for marketing purposes either by Beleela Shopper or by its partners. It is possible that you might receive commercial advertisements via email too, although generally you should see various coupons, offers and other ads on pop-ups, new tab pages, and so on. As we mentioned earlier, most of the ads should be from trustworthy e-shops, e.g. amazon.com. Nevertheless, the application could provide you links that would lead to questionable websites. For example, such sites might advertise suspicious software such as different adware, potentially unwanted programs, browser hijackers, and others. It is important to know that Beleela Shopper does not take any responsibility for any harm that you might receive while visiting the websites it promotes.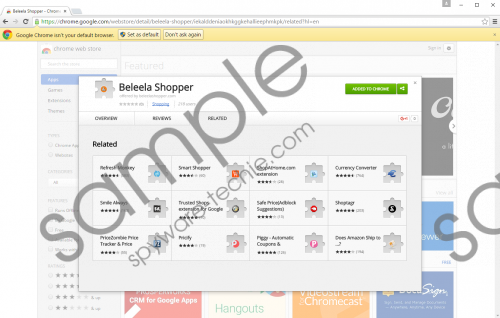 Beleela Shopper screenshot
Scroll down for full removal instructions
The application is installed as a browser extension for Google Chrome while other browsers should remain unaffected. Although it is possible that the program will be updated in the future, so it might become compatible with other browsers too. If you already saw Beleela Shopper's official website, you have noticed that the provided download button is not active, which means that the application is spread in other ways. Firstly, as most of the extensions created for Google Chrome, the adware was available on the Chrome Web Store, but we noticed that it is not there anymore. The fact that this extension was removed from this store does not make it seem as reliable software. As for now, the extension might be spread through bundled installers. It means that the installer might have additional suggestions, such as Beleela Shopper. Often these installers are downloaded by users who visit unreliable file-sharing sites, so it would be better to stay away from them.
To summarize, the application is yet another adware extension that brings annoying or potentially harmful ads. Every user who does not wish to risk its computer's security should carefully weight all advantages and disadvantages. If you decide that you do not need this extension on your browser, you can use the instructions below this text to remove it. The application can be eliminated if you erase its main folders, or you could delete it with an antimalware tool. Download a legitimate security tool that you trust and complete its installation. When you launch the antimalware, you should be able to scan your system and locate the adware. Afterward, you can review the scanning results and delete Beleela Shopper from your computer.
Delete Beleela Shopper
Open the Explorer (WindowsKey+E).
Insert given location: %LOCALAPPDATA%\Google\Chrome\User Data\Default\Extensions
Find folder named as iekalddeniaokhkggkehallieephmkpk.
Right-click it and press Delete.
Navigate to: %UserProfile%\Local Settings\Application Data\Google\Chrome\User Data\Default\Extensions
Locate this folder iekalddeniaokhkggkehallieephmkpk and right-click to Delete it.
In non-techie terms:
The application might gather information about your browsing habits and use it to provide you with tailored ads. If you do not want any targeted pop-ups from the adware, you should delete it from your system. The removal part is easy enough, so even inexperienced users should handle it. On the other hand, if you wish to secure your computer, you could download a legitimate security tool that would erase the adware and keep your PC protected.