Do you know what Bee Coupons is?
Bee Coupons is an extension for your Internet Explorer, Mozilla Firefox and Google Chrome browsers. As you can tell by the name, the application belongs to the coupon family, which is why you may discover various pop-up discount vouchers and saving deals after it is installed onto your operating system. Even though the plugin is meant to help you save money, it may be harder to install it onto your browsers than you can imagine. As our researchers have discovered, you cannot download the supposedly beneficial add-on from bee-coupons.com at the moment; however, this is not considered to be a misfortune. In fact, getting Bee Coupons deleted from your browsers is what most computer users struggle with, and so you should not even think about installing it.
Have you ever faced bundled software? You may discover this when installing the preferred computer applications or browser extensions and getting an offer to acquire unfamiliar programs. If you download software from legitimate, reputable sources, the additionally offered installers may belong to less popular but authentic and harmless applications. On the other hand, if you trust unreliable third party distributors, you may discover various unfamiliar and undesirable programs packaged together. If this is a situation you have found yourself caught-up in, we recommend declining unfamiliar programs or terminating the installation setup altogether. Note that packaged software sometimes could be installed without your consent, in which case you should delete all potentially undesirable programs from the PC.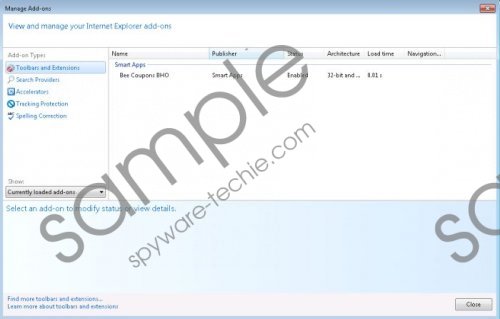 Bee Coupons screenshot
Scroll down for full removal instructions
Do you need to remove Bee Coupons from your web browsers? As our researchers have found out, the plugin can track your virtual activity and use it to present various pop-up coupons. Additionally, it has been discovered that affiliate online advertisers could use the information regarding your virtual activity to flood you with suspicious online advertisements. You should not click on these if you do not want to be routed to websites or launch installers of programs which follow completely different privacy policies. Overall, it is not a must to delete Bee Coupons; however, security experts recognize certain risks which are related to the plugin. If you do not trust the program either, we suggest installing automatic malware removal software or following the manual removal steps below.
Delete Bee-Coupons
Delete from Windows 8:
Tap the Windows key on the keyboard to access the Metro UI menu.
Right-click anywhere on the background and select All apps.
Select Control Panel to open a new menu and click Uninstall a program.
Now right-click the application you wish to remove and click Uninstall.
Delete from Windows Vista/Windows 7:
Move the mouse cursor to the left of the Task Bar and click the Start icon.
Select Control Panel and then click Uninstall a program.
Right-click the application you want to remove from the computer and select Uninstall.
Delete from Windows XP:
Click the Start icon on the Task Bar and open the Control Panel.
Now double-click Add or Remove Programs to find the undesirable plugin.
Click the application and select Remove to get rid of it.
In non-techie terms:
Bee Coupons is a suspicious browser plugin which may track your browsing activity and use the information to target you with online deals and advertisements which may be interesting to you. Do you think these services are reliable and beneficial? Unfortunately, the online ads and coupons may be supported by third parties whose intentions and extremely questionable. Therefore, we advise that you remove Bee Coupons or at least utilize authentic security software to ensure further protection.
Aliases: BeeCoupons.