Do you know what Beback is?
Have you downloaded the Beback add-on in the hopes of getting the best online shopping deals? This suspicious extension promises its users cash back of up to 40% if they use the deals offered to them, and this must be one of the main reasons anyone installs this strange program. Our research team classifies it as an unreliable advertising-supported program that probably deserves removal. First and foremost, if this adware is capable of giving money back, it must be capable of recording personal information as well. Although plenty of reliable online services can record and store private information, are you sure that you can trust the ad-supported program in the same way? Unfortunately, this is not the only reason you should continue deleting Beback. Keep reading this report to learn more.
Although the suspicious adware is officially represented via beback.ru, the installer is found on the Chrome web store at chrome.google.com/webstore/detail/beback/cniidnafaeifbddpmnfclgjjhokbgdhm. According to the information represented via this page, the extension is only capable of reading and modifying the content you find on websites. This means that this suspicious program can scan the contents of the website and place advertisements where needed. Have you encountered any advertisements after installing Beback? You should have because that is the main purpose of this ad-supported program. Once you install it, it should start introducing you to various supposedly beneficial deals. Notably, you are required to register for the services, which is another way for the creator of this program to record information about you. The collection of private data is one of the main reasons why you should remove this adware.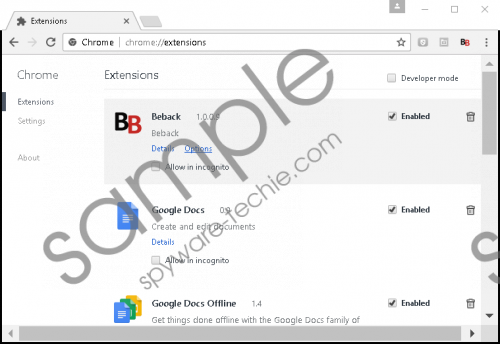 Beback screenshot
Scroll down for full removal instructions
The second reason for removing Beback from your operating system has to do with the advertising service. Although this extension is meant to introduce you to authentic offers, it is most likely that third parties are being served first. Unfortunately, no one can guarantee that all parties associated with the adware can be trusted. In the worst case scenario, you will be introduced to misleading and useless offers, and that could lead to other problems. In general, it is unlikely that you will benefit from using Beback because you are more likely to find better deals yourself. Although offer-representing programs can save time, you have to do your own research to find the best deals and discounts. Also, remember that the more parties are involved – and ads are likely to promote the services of many different parties – the more risks you are likely to face. If you want to avoid that, consider removing the add-on.
We recommend resetting your browser to have Beback removed completely along with all tracking tools. Before you do that, we encourage you to perform a full system scan – make sure you use a legitimate, up-to-date scanner to get accurate results – to see if other threats are active. Although the suspicious adware can be downloaded from a secure source, many users download it using third-party installers. In many cases, this adware might come packaged with potentially unwanted programs (e.g., YoutubeAdBlocker) and serious threats. What should you do if malware is detected? You should be able to find manual removal guides on this website, but we advise using anti-malware software instead because it can automatically erase all threats at the same time.
Delete Beback from Google Chrome
Open the browser and tap keys Alt+F.
Select Settings and scroll to the bottom.
Click Show advanced settings and then scroll to the bottom again.
In the Reset settings section click the Reset settings button.
Click Reset to confirm the action.
In non-techie terms:
Although Beback is not an incredibly malicious infection, it can open security backdoors with every ad it shows, and that is a huge risk. Also, it can spy on you to record information that could be accessed and used by unknown parties as well. In general, this advertising-supported program is too unpredictable to trust, and we advise deleting it from your Chrome browser immediately. While you can get rid of the add-on from the "Extensions" menu, we suggest resetting the browser to make sure that not a single trace of this adware is left behind. We also suggest employing anti-malware software to have all threats eliminated from your PC – in case they are active – as well as to keep your operating system guarded reliably.